Hackney Herbal Online workshops
starts Tuesday 2nd March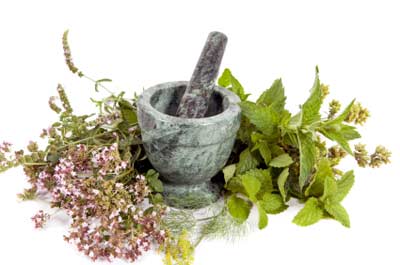 Hackney Herbal are a social enterprise specialising in creative events which explore the beneficial uses of herbs. We run a variety of herb-related activities in Hackney promoting mental health and well-being within the local community.
Online Aromatherapy Course: Introduction to Essential Oils – Tuesday 2nd March until Tuesday 16th March
Join us for a 3-part introduction into essential oils and aromatherapy. In this series we will explore the history and origins of aromatherapy, its methods and applications and how to use essential oils safely for health, wellbeing and enjoyment. We will practice scent meditation and get to know 10 essential oils in depth.
Online Workshop: Grow your own food – Saturday 27th March, 2pm-4pm
Would you like to start and develop your very own kitchen garden? Join us for an introduction to organic veg growing, where we'll lay the basics and give you lots of tips to get you going.
Online Workshop: Essential Oils for the Face – Sunday 28th March, 11am-1pm
Join us for this virtual workshop where we will be sharing our knowledge, recipes and rituals for maintaining healthy skin through the application and use of essential oils, with a focus on the face.
For more details and booking, see http://www.hackneyherbal.com/workshops
Permaculture Design Principles in Food Growing
Wednesday 3rd March, 5:30pm-7pm
This Capital Growth workshop will examine how to approach growing food by planting edible ecosystems that maximise yield from a growing space. The approach challenges conventional approaches to food growing by combining annuals and perennials, using plant combinations for fertility and focussing on supporting the soil ecosystem. As well as presenting a way to understand the approach the workshop will also outline practical ways to approach food growing from a permaculture perspective. Trainer: Susannah Hall
for details of all Capital Growth training, and course booking go to : https://www.capitalgrowth.org/training/
Get Your Garden Growing
This is the second session of the GYGG online programme of 2021. We will be discussing how to propagate plants efficiently and effectively so that your seedlings get the best start when they go in the ground. We will also be telling you the best jobs and plantings to get done in March. There will be time for Q & A and break out room discussions. More details and booking, at https://www.sociallandscapes.co.uk/events/2021/2/3/get-your-garden-growing-february-2021-659zr
What Next? Online Summit – With Transition Network and CTRLshift
Wednesday 3rd March – Saturday 20th March
The What Next? Summit will build community power across the UK by bringing together hundreds of community activists already making change happen, so together we can have a bigger impact. It will be a space to empower us to create our own future, tap into our imagination, make new connections and share knowledge to build a stronger movement.
The Permaculture Association is a partner in CTRLshift. We look forward to seeing you at the Summit more information and booking details at https://transition-bounceforward.org/what-next-summit/
National Diploma Gathering Online
Friday 5th March – Saturday 6th March
Join us online this Spring for an inspiring programme of workshops, design sharing, optional tutorials and making new connections. The National Diploma Gathering will be online in 2021 on the Permaculture Association's Crowdcast channel, as well as Zoom. The gathering will take place on Saturday 6th March 2020 with an online social event on Friday 5th March. This event is open to existing Diploma apprentices as well as those with a PDC who are considering this route to further learning. More details and booking at https://www.permaculture.org.uk/noticeboard/event/general-event/national-diploma-gathering-online
Permaculture Association members' social – March
Wednesday, 10 March, 7pm
Monthly member socials are a place to meet and connect with other members, on 2nd Wednesday of each month Share your ideas and get your questions answered through small group discussions and whole group Q&A. More information, and booking at https://www.permaculture.org.uk/noticeboard/event/monthly-social/permaculture-association-members-monthly-socials
Policy Hack day
Monday 15th March, 10am-4.15pm : drop in
Do you love policies? Yes or No, this day is the chance to bring your policies and procedures to life with the support of SF&G, Capital Growth and people from community gardens and city farms. We will have themed talks, followed by Q&A's and surgeries, plus socialising and meeting new people. People will share insights into how policies help them run well and fundraise well. Drop in for the topic that interests you, or stay all day. Booking and more details at https://www.farmgarden.org.uk/events/resilience-ground-policy-hack-london
Clippings: Topiary & Pruning Techniques
Monday 15th March, 7:30pm
SE Essex Organic Gardeners – online event, a 'Zoom' presentation by Darren Lerigo, a gardener who specialises in topiary and pruning. Suggested minimum donation: £2.00. For further information and joining instructions, please ring/message 07967 851521; email caroleshorney@hotmail.com. Website : https://seeog.org.uk/
Stir to Action New Economy Programme
starts Wednesday 17th March, 2pm
We need a new economy more than ever so let's democratise the high street, start a worker co-op, convert to employee ownership, and build community through storytelling. Stir to Action's New Economy Programme offers the chance to acquire the skills and inspiration you need to make it happen.
And here's a 20% off discount code : THINK&DO. More information at https://www.stirtoaction.com/workshops
Introduction to Engaging Children in Permaculture Course
Monday 22nd, Wednesday 24th & Thursday 25th March, 12:30pm-4:30pm
or Friday 26th, Saturday 27th and Sunday 28th March, 2:30pm-6:30pm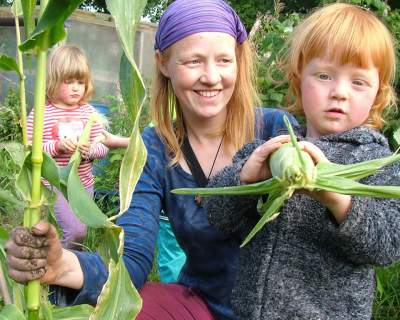 A course for school & nursery teachers, forest school leaders, nature kindergarten teachers, parents and other educators to learn how to engage children in all aspects of permaculture, learning from nature with a child-led approach. Permaculture is about working with nature, based on deep observation and understanding of the principles which underpin natural systems. Childhood is the ideal time to get to know nature, and how nature works, through play and experimentation.
This course will take place twice in March! for more information and booking see http://childreninpermaculture.com/events/
Three Acres and a Cow's 8th birthday show (online)
Saturday 27th March, 7pm-9pm
Three Acres And A Cow is a show that connects the Norman Conquest and Peasants' Revolt with climate change and the housing crisis via the Enclosures, English Civil War and Industrial Revolution, drawing a compelling narrative through the people's history of Britain in folk song, story and poem.
Come and spend the evening celebrating our 8th birthday as we graze parts of the show in a virtual field. We'll be raising money to fund our debut cowbum, recording songs from the show which still don't exist anywhere online. More at https://threeacresandacow.co.uk/
Spring Prize 2021 is launching!
deadline 31st March
For the fourth year, £200,000 will be awarded to communities, organisations and businesses around the world that are working towards environmental and social regeneration. Lush and Ethical Consumer have launched the fourth Lush Spring Prize – a biennial £200,000 fund and other support activities that aim to build the capacity of those repairing the earth's damaged systems.
The Spring Prize celebrates those that are increasing the capacity of communities and societies to thrive in harmony with nature and each other, building healthy and resilient ecosystems and livelihoods.
The deadline for applications is 31st March 2021 10:00 GMT. To learn more see the Spring Prize website at https://springprize.org/
Permaculture Magazine
New Permaculture Magazine out now!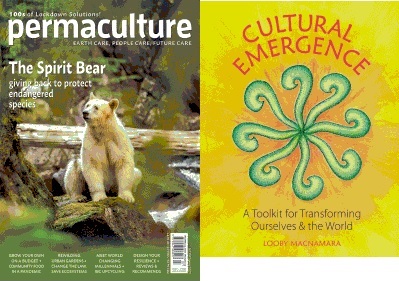 Self-Sufficiency On A Budget, How To Improve New-Build Gardens, Designing A Community Farm For A Pandemic, From Slash And Burn To Food Forests… and much more. Permaculture is a best selling magazine full of practical ideas and inspiration for your home, garden and community. Every subscriber gets FREE access to over 28 years of back issues. subscribe here : https://www.permaculture.co.uk/subscribe
Cultural Emergence – Looby Macnamara
The challenging times we live in show us that there is no going back to 'normal' life, but how do we step forward? Looby's brand new book offers a framework that enables us to design the world we want to live in. Drawing upon indigenous wisdom, permaculture design and systems thinking, this is a groundbreaking toolkit which activates healing and revolutionises our approach to creating life-sustaining and regenerative cultures.
London Permaculture Newsletter subscribers receive 25% off Looby's brand new book when ordering this week, simply enter this code PMAS20 at checkout: https://shop.permaculture.co.uk/cultural-emergence.html
Forthcoming Events
Hackney Herbal Online Workshop: Growing Food on a Windowsill
Saturday 3rd April, 2pm-4pm
Join us for an online workshop where we'll be looking at how to grow food in small urban spaces – from balconies to window ledges and windowsills. We will look at herbs, salads and veg that grow well in containers, which ones tolerate being indoors, and what is suited for different spaces, as well as everything you need to know to start growing your own seed sprouts and microgreens. More details at https://www.hackneyherbal.com/workshops
Get Your Garden Growing – April 2021
Wednesday, April 7th, 7pm-8:30pm
This is the third online session of the GYGG online programme of 2021. Session content TBC. We will also be telling you the best jobs and plantings to get done in April. There will be time for Q & A and break out room discussions. More details at : https://www.sociallandscapes.co.uk/events/2021/2/3/get-your-garden-growing-february-2021-659zr-5p45r
Designing for Resilience : Foundations of Permaculture Online Course
This new online course from Permaculture Association is based on the official Introduction to Permaculture curriculum. All the modules have been created by working closely with real learners to fine-tune and improve the course.
We've built on the many years experience of the Permaculture Association to bring you something truly exciting: a quality online permaculture education that you can learn at your own pace. For more information and to register go to: https://learn.permaculture.org.uk/c/designforresilience-/splash
---
21st Century Permaculture Radio
Archive programmes available at https://www.mixcloud.com/21stcenturypermaculture/
Brighton Permaculture Trust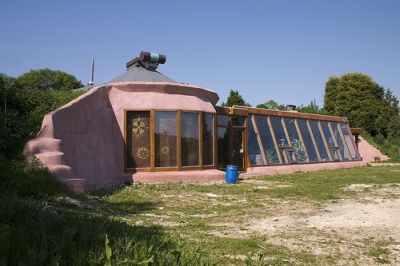 Head to the Brighton Permaculture Trust. Check out their website for news of courses, events and Permaculture by the sea. They are running a number of Online permaculture, Eco Build, and gardening courses. See the website for more details and booking.
London Permaculture Network – Interactive Project Map
The London Permaculture network has launched a map of permaculture, and permaculture-friendly projects in London. Go to http://www.londonpermaculture.com/map/ to see it. Use the map to guide yourself around the projects in your local area, and the whole of London.
This map is still being developed, and we would love your project to be included! If you would like your project added to the map please contact us at info@londonpermaculture.com
---
How do I get events and webinars in the newsletter?
If you want your webinars, online events, and announcements to be in the London Permaculture Network newsletter (sent out at the start of each month), please email them to us, at info@londonpermaculture.com before the 15th of the month, and they will go into the next month's newsletter.