London Permaculture Festival – another great day!
Despite the weather – the first rainy day in 2 months – there were over 600 people at this year's London Permaculture Festival attending workshops, browsing the stalls market, enjoying cake from the festival tea and cake stall and delicious food from in-house café PINK.
We had over 22 exciting and varied workshops including Introductions to Permaculture, Positive Solutions Around the World, Forest Gardening, Composting, Keeping Chickens, Growing lots of herbs and micro greens, Change Your World with Permaculture, Design for Action, Conflict resolution, How Would Permaculture Run the World? and many others. The workshops were packed out, and the stalls market full to bursting with stalls! The festival had a great mix of people of all ages and lots of people finding out about permaculture for the first time.
The Families at the Festival zone kept the kids busy – they listened to nature stories, got their faces painted, did nature art, planted a seed, learnt about wildlife, and even got to play in the garden between showers.
All in all a wonderful day – stimulating, fun and friendly! A big thank you to everyone who helped make the festival possible: speakers, stall holders, volunteers, and of course, attendees!
Sustainable Hackney Films For Action : The Last Guardians
Friday 3rd August, 7pm-11pm
Guest Projects, 1 Andrews Road, London E8 4QL
Join Sustainable Hackney once again for a SPECIAL film screening event in partnership with La Wayaka Current. Enjoy a breathtaking art exhibition by local and international artists followed by a moving story direct from the indigenous amazon people of Ecuador, protecting that which matters the most.
La Wayaka Current is a group of artists and creative minds exploring arts, cultural and environmental diversity across the planet and in turn reflect on our own communities, habitats and ourselves. The Last Guardians is a documentary made alongside the indigenous Sàpara and Kichwa communities of the Ecuadorian Amazon.
FREE (Donation on the door) more details: https://www.facebook.com/events/489822781458545/
Home composting & healthy soils workshop
Saturday 11th August, 10am-1pm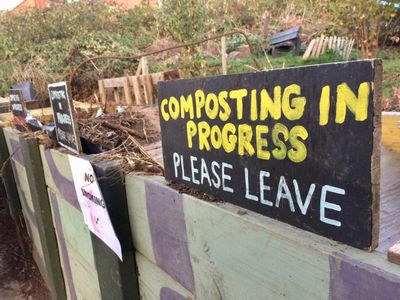 Sutton Community Farm, 40a Telegraph Track, Wallington, London SM6 0SH
Composting expert Paul Richens will lead the workshop, which has been designed to encourage and inspire those wishing to improve their home composting know-how. Come along to discover why composting is absolutely key to creating healthy soil to produce food and flowers through building soil fertility, reducing waste and saving you money! More information at http://suttoncommunityfarm.org.uk/events/home-composting-healthy-soils-workshop-saturday-11th-august-2018/
Peckham Permaculture Club
14th, 28th August and 11th September, 6pm-8pm
Glengall Wharf Garden, 64 Glengall Road, Peckham, SE15 6NH
An informal, fortnightly session that focuses on the development and maintenance of the forest garden and hugel mounds using permaculture principles and techniques. Each week will begin with a short theory talk and then move on to a practical task. Activities will be seasonal, to include harvesting, watering, seed saving, repair and maintenance, pruning and much more.  We aim to establish a permaculture guild of like minded people at the garden who can help us promote and develop permaculture on site.
For more information contact burgessfoodproject@gmail.com
Tool-care workshop
Wednesday 15th August 2pm-3pm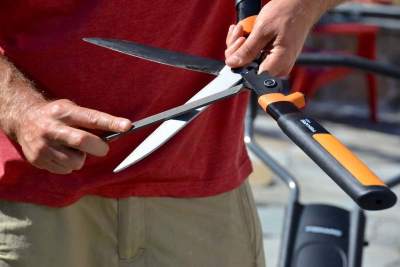 Forest Farm Peace Garden, end of Hazelbrouck Gardens, Hainault IG6 2XL
This is a practical workshop led by one of our past volunteers, Daniel. We'll be learning how to clean, sharpen and oil garden tools, mainly secatuers, loppers and shears. This is a free workshop open to the public. To register your interest please email: info@forestfarmpeacegarden.org
Forest Gardening Intro
Sunday 19th August, 1pm– 4pm
Edible Landscapes London, London N4 1BY
Learn forest garden basics and produce your own basic design. Fun, hands-on and interactive. More information and booking at https://www.eventbrite.com/e/forest-gardening-intro-tickets-44657398481
Certified Course in Community Orcharding
12 Saturdays over 7 months, starting 25th August, 9.30am-4.30pm
Range of community orchards across London
Come on our brilliant new orcharding course and learn everything you need to know about managing community orchards. You will benefit from our team of experienced orchardists. We will teach on 12 Saturdays over seven months, giving you a wonderful opportunity to learn a wide range of seasonally appropriate skills. In addition you can attend practical, reinforcement days. The course is reasonably priced and there are options for paying less if you are aged 16-24, or able to volunteer for us. More information here https://www.theorchardproject.org.uk/what-we-do/cico/
Permaculture Polycultures – getting more from your plot
Tuesday 28th August, 6pm-8:30pm
Cecil Sharp House,  2 Regent's Park Road, London NW1 7AY
Come and find out how incorporating simple polyculture designs into annual growing plans can increase overall yield and variety, help improve soil structure and moisture retention, build fertile soil, attract pollinators and insect pest predators while increasing wildlife habitats. Going beyond traditional companion planting, this workshop will explain how to use permaculture guilds to create plant alliances among species with different niches above and below ground, in which each plant contributes to the benefit of all. It will include information about how to integrate unusual edible perennials with more common annuals. Organised by Capital Growth, bookings here: https://www.eventbrite.co.uk/e/permaculture-polycultures-getting-more-from-your-plot-tickets-45932806260
Capital Growth training courses in August
Wednesday 1st August, 6.00pm – 8.30pm, Urban plant safari and botanical drawing, The Regent's Park Allotment, NW1
Wednesday 8th August, 6.00pm – 8.30pm, Garden inspired craft, The Skip Garden, Kings Cross, N1
Saturday 11th August, 10.30 – 1.30pm, Plants as medicine and healing allies, Whetstone Stray Allotments, N12
Wednesday 15th August, 6.00pm – 8.30pm, Learn to love insects: identify and home beneficial insects in your garden, St Luke's Community Centre, EC1V
Tuesday 28th August, 6.00pm – 8.30pm, Permaculture Polycultures: Getting more from your plot, Cecil Sharp House, NW1
Wednesday 29th August, 6.00pm – 8.30pm, The essentials of market gardening, The Skip Garden, N1
More information and links to booking pages here https://www.capitalgrowth.org/training/
Summer Wild Play for Children
dates throughout August
Ham Common woods, Kingston-upon-Thames
Organised by Kingston Forest School, children spend all day having adventures, exploring nature, being creative and playing games. Based at our woodland camp in Ham Common Woods. Bug hunting, den building, tree climbing, rope swinging, wild art, natural crafts and a range of tools are available for small projects. We tailor sessions to the interests of the children on the day. More details at https://www.facebook.com/kingstonforestschool/
Cafe Cairo
88 Landor Road,  Stockwell, London SW9
Every last Thursday of the month is South London Permaculture Cinema at Cafe Cairo. Doors open at 7pm, the evenings flow can be viewed on www.facebook.com/BrixtonEdge. Showing Eco films for change, promoting permaculture action in London, facilitated by Lola an evolving permaculture artist. Entry is free so what are you waiting for?
Forthcoming Events
Susannah's Allotment Permablitz
Saturday 1st September, 10am-5pm
Brent Cross, north London
Join this permablitz to instal rainwater collection from the shed with water butts, create wicking bed planters for salads and plant more unusual edible perennials on the allotment, according to a permaculture design by Susannah Hall. We will also plant bee-friendly herbs and flowers around the bee hive. There will be mini-workshops on natural bee-keeping using a horizontal top-bar hive and tips on keeping plants watered on an allotment.
RSVP Essential: if you want to come along you need to let us know so we know numbers and we can give you all the specific details. Contact us here letting us know which permablitz you want to join.
Permablitz London Design Guild
Monday 10th September – Monday 12th November 2018
Cecil Sharp House, 2 Regent's Park Road, London NW1 7AY
Permaculture designers from Permablitz London Design Guild are holding another Introduction to Permablitz Design series focused on creating designs for forthcoming permablitzes that will take place at a variety of sites across London.
All welcome: suitable for experienced designers, gardeners and complete beginners. Please note: the previous series was over-subscribed. Priority will be given to people who sign up for the whole series. Each session is free and from 7pm to 9pm on the following dates:
Monday 10th September, Monday 17th September, Monday 24th September, Monday 1st October, Monday 8th October, Monday 15th October, Monday 22nd October, Monday 29th October, Monday 5th November, Monday 12th November.
Pre-booking essential: f you would like to come along please email Kayode or Susannah at info@permablitzlondon.com to let us know.
Introduction to Permaculture
Saturday 15th-Sunday 16th September
Furnace Fields Smallholding, near East Grinstead, West Sussex
The Introduction to Permaculture is a weekend course giving you an overview of permaculture, its key design tools, case studies of permaculture people and places and some practical activities. You have the opportunity to try out permaculture design tools on a project of your choice: here you will have design support and go away with your first permaculture design. After this course, you are ready to get started in permaculture! More info at http://www.sunrisepermaculture.org.uk/portfolio/introduction-to-permaculture/
Designing Edible Spaces – London
Saturday 15th-Sunday 16th September
The Skip Garden, Kings Cross
Would you like to be growing your own food but feel you don't have space or the time? Eating more organic food but think it's too expensive? This course will give you the design skills and knowledge to transform your garden or urban space into an abundant, edible garden, that is full of food, friendly to wildlife, looks good, and needs little maintenance. More info at https://www.facebook.com/events/936396156539014/
Capital Growth training courses in early September
Saturday 1st September, 10:30am – 1.30pm, How to start seed saving: Growing, saving and sharing, The Albany Garden, SE8
Wednesday 5th September, 6.00pm – 8.30pm, Growing autumn and winter vegetables, The Skip Garden, N1C
Saturday 8th September, 10.30am – 1.30pm, Making ointments, balms & salves, Spitalfields City Farm, E1
Wednesday 12th September, 6.00pm – 8.30pm, Income generation for community gardens, The Regent's Park Allotment, NW1
Saturday 15th September, 10.30am – 4.00pm, Building earth pizza ovens, Wildcat Wilderness Garden, SE6
More information and links to booking pages here https://www.capitalgrowth.org/training/
---
London Permaculture Network – Interactive Project Map
The London Permaculture network has launched a map of permaculture, and permaculture-friendly projects in London. Go to http://www.londonpermaculture.com/map/ to see it. Use the map to guide yourself around the projects in your local area, and the whole of London.
This map is still being developed, and we would love your project to be included! If you would like your project added to the map please contact us at info@londonpermaculture.com