London Permaculture Network AGM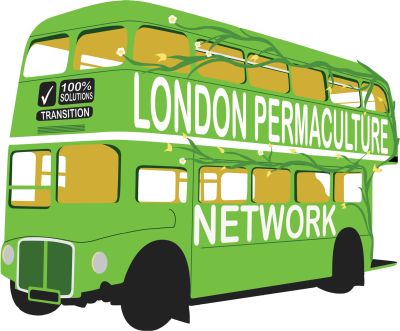 Saturday 30th April 2pm – 4pm
Conway Hall, Red Lion Square, London WC1R 4RL
Join us as we make plans for the 2016 London Permaculture Festival. The main business will be:
Reports on our work in 2015
Overview; Finance; Festival; IPC
Elections for Chair, Secretary and Treasurer
Discussion about the forthcoming London Permaculture Festival
Any Other Business
Nearest tubes: Holborn, Chancery Lane and Russell Square
Permablitz at South London Housing Coop
Sunday 3rd April, 10am- 5pm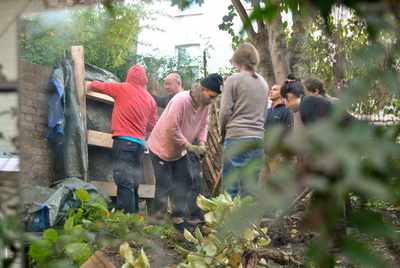 Peckham, South East London
Join us for the next permablitz at this South London Housing Co-op in Peckham. This permablitz will focus on the next phase in establishing a modified forest garden design. We will be planting permaculture guilds with a particular emphasis on bee and butterfly forage plants. We will also be planting seeds for annual vegetables and creating a vertical growing structure for edible climbers.
RSVP Essential: if you want to come along you need to let us know so we know numbers and we can give you all the specific details. Contact us here
Permaculture Picturehouse presents "Grow Your Own Garments"
Tuesday 5th April, doors open 7:30pm
Passing Clouds, 1 Richmond Rd, Dalston, London E8 4AA
Kate Poland from Cordwainers Grow is coming along to talk about her "Seeds of Fashion" project – a garment, sown, grown and made entirely in London. She will also be talking about the work they do at Cordwainers Grow Community Garden in Hackney and how people can volunteer to get involved. Zoe Burt – a textile artist who specialises in Natural Dye techniques will be coming along to speak about natural dye process' and to give a bit of a show and tell about her work. Short Film: "Fibreshed for London" – is it possible to produce garments from fabric to finish within a radius of the M25? Discussion/Q&A to end the evening of the topics covered on the night followed by a "Stitch and Bitch" – learn how to knit and make your own fabrics (or bring your current knitting along!). Food is being served up on the night by Marwa from the Wildwood Café pop up in Camden.
More information: http://www.passingclouds.org/calendar/
Permaculture Design Course – Creating Resilient Communities
Starts Saturday 9th April for 7 weekends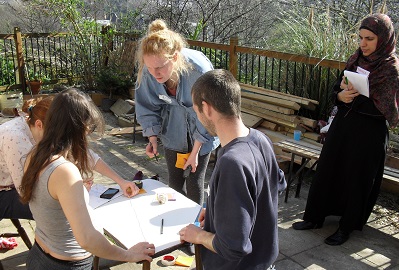 Treadwell, Streatham Hill, South London
The Permaculture Design Course is a 72-hour inspiring and often life-changing course, accredited by the UK Permaculture Association. Over the period of 7 weekends we will explore practical and creative solutions for building resilient communities and designing abundant eco-systems. The course has a strong practical emphasis on ecological and social design thinking and how this can be applied in different parts of our life and society.
For more details and booking see the website
 Herbal Soap Making Workshop
Sunday 10th April, 2pm – 5pm
Hackney City Farm, 1a Goldsmiths Row, London E2 8QA
A beginner's introduction to the traditional method of cold process soap making. The demonstrations in this workshop will give you the confidence (and the comprehensive notes) to start making your own soaps with equipment you probably already have at home. Take home your own calendula soap on the day. More info and book tickets on the website. 
Deep Down and Dirty: a (not) earth-shattering new course
Monday 11th April, 9:30am – 4pm
Edible Landscapes, Finsbury Park, London N4
Come and get Deep Down and Dirty and learn all about soil science – how nutrients are passed between plants, fungi and soil organisms; develop a good understanding of soil types and structures; discover why soil is essential to all land-based life; learn how to manage soil for growing different types of plant; gain practical experience of different soil types.
More info and booking on the website.
6 Week Food Growing Course
Starts Saturday 16th April until Saturday 21st May, 10:30am – 12:30pm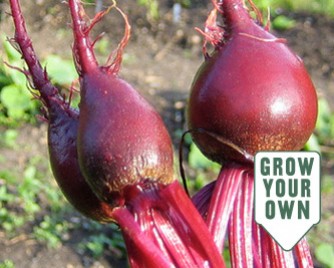 Carshalton Community Allotment, access between 33-35 Colston Avenue, Carshalton SM5 2PW
If you are just starting out, or would like to get some more detailed knowledge of food growing, then this course is for you. Over 6 weeks you will learn everything you need to know to confidently grow your own fruit and veg. You will get hands on experience as well as theoretical knowledge and the support of an experienced tutor. More info and booking on the website.
London-grown Flax Workshop
Thursday 21st April, 6pm – 7:30pm
London College of Fashion, 182 Mare Street, Hackney, E8 3RE
Learn how to turn flax into linen thread and string in this hands-session. You will get your own piece of flax and turn it into a piece of string during the class. Spaces are limited so please email to book a space : hello@cordwainersgrow.org.uk. Tickets £6 to cover all materials/equipment
Spiritual Ecology: A Deeper Response To The Ecological Crisis
Friday 22nd April, 10am – 5pm
St Ethelburga's Centre for Reconciliation and Peace, 78 Bishopsgate, London EC2N 4AG
Can we respond to the true nature of the ecological crisis from just a political or economic perspective? Spiritual Ecology is a developing field which joins ecology and environmentalism with a deeper awareness of the Earth as alive, animate and sacred. In this workshop, join us for an exploration into the principles of spiritual ecology, and how they can be lived and practiced in ways that create lasting change.
More info and booking on the website.
Advanced Facilitation Training
Tuesday 26th April, all day
St. Luke's Community Centre, 90 Central St, London EC1V 8AJ
A unique day of interactive and participatory learning to build your confidence as facilitator or workshop leader. You will develop your skills and attitudes as a facilitator in working with diverse groups and using participatory processes. We'll look at what it means to be in the mind-set of a facilitator rather than to just 'do facilitation'. The day will also build your confidence and give you a solid basis on which to develop your own style and techniques. More info and booking on the website.
21st Century Permaculture Radio
Alternate Sundays at 8pm
Radio show interviewing different guests each time from a pantheon of Permaculturists – talking about what they're up to and how this feeds into the global movement that is Permaculture today. Mixing in some sweet classic retro funk on the way.
For more details, previous broadcasts and to listen go to www.21stCenturyPermaculture.com
5 new jobs at the Urban Orchard Project in London
The Urban Orchard Project are recruiting a whole host of new team members to deliver our exciting new Celebration of Orchards project across London. Our Celebration of Orchards project will create an inspirational orchard restoration, education, training and events programme to celebrate and protect London's rich orchard heritage. For more information see http://www.theurbanorchardproject.org/recruitment
---
Permaculture Courses in London
There are courses & events being offered on many themes over the year and for more info on the courses mentioned above – check out the London Permaculture Ning.