London Permaculture Festival
Sunday 29th July, 11am-6pm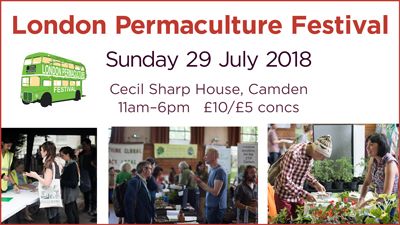 Cecil Sharp House, 2 Regent's Park Road, London NW1 7AY
The annual London Permaculture Festival is a one day grassroots event that attracts around 700 people who come to learn about how the ethical design science of permaculture can offer sustainable, regenerative green solutions to different areas of modern life. We rely on 50-plus volunteers to put it on each year (see below for details about how you can volunteer). More information at http://www.londonpermaculturefestival.com
Watch the video for a taster of what happens at the festival:
https://www.youtube.com/watch?v=LQR-m40WZq0
Workshops this year include:
Aranya, author Permaculture Design: Change Your World with Permaculture
Bryn Thomas: Forest Gardening
Permablitz London: Urban Permaculture – introduction to designing edible ecosystems in the city
Andy Goldring: Permaculture Association Chief Executive: Emergent Dynamic Governance Ecosystems
Chloe Anthony: Introduction to Permaculture principles
Stef Geyer: on his book, Zen in the Art of Permaculture Design
Mark Ridsdill Smith: Vertical Veg – How to grow LOTS of herbs and microgreens in a very small space
Mary Rawlinson: Building with Straw Bales
Ros Bedlow: The Gift Economy – what's it worth?
Gail Farrow: Living Medicine – Self care with food & herbs
Graham Burnett: author of The Vegan Book of Permaculture: Design for Action
James Marr: How to Build a Bamboo bicycle
Nat Mady: Introduction to Permaculture
Nicola Peel, Eyes of Gaia: Positive Solutions
Jenny, Spitalfields City Farm: Raising Chickens in the City
Randy Mayer: Introduction to Permaculture
Heidi Herrmann & Rachel Hanney: Natural Beekeeping Trust
Sue Amos: Composting for City Gardeners
Zoe Burt: Talk on new book: Nature Journal and Cyanotype workshop
Les Moore: Sociocracy
James Lander: Yoga
Families at the Festival

Garden trail
Mini beasts
Nature art
Face painting
Natural dyeing
Storytelling
and much more!
No need to book – just buy your ticket at the gate!
More information at http://www.londonpermaculturefestival.com
Last chance to book a stall at the festival
The Stalls Market will be featuring stalls from a host of permaculture and sustainable publications, organisations and retailers and projects. Payment to have a stall is through a cake currency: we ask for 2 cakes per stall which will be sold on the tea and cake stall. There are still spaces available so if you would like a stall please email Hugh at:stalls@londonpermaculturefestival.com.
The Festival Needs You – Volunteer Shout Out
Come along to help out with publicity. We are arranging sessions before the festival to get the word out, and to arrange final details of the day, 6.30pm-8pm at Cecil Sharp House, Camden  NW1 7AY.
Tuesday 3rd July
Tuesday 17th July
We also need on the day at the festival. If you would like to get involved, either beforehand or on the day itself, please contact Kayode at: info@londonpermaculturefestival.com
Plus an amazing cake stall!
---
Introduction to Permaculture
Saturday 7th – Sunday 8th July
Furnace Fields Smallholding, near East Grinstead, West Sussex
The Introduction to Permaculture is a weekend course giving you an overview of permaculture, its key design tools, case studies of permaculture people and places and some practical activities. You have the opportunity to try out permaculture design tools on a project of your choice: here you will have design support and go away with your first permaculture design. After this course, you are ready to get started in permaculture! For more details and booking see 
http://www.sunrisepermaculture.org.uk/portfolio/introduction-to-permaculture/
Permablitz at Cecil Sharp House
Sunday 15th July, 10am-5.30pm
Camden London NW1
This permablitz will focus on introducing more unusual edible perennials, re-planting the green roof and applying compost tea and comfrey tea. There will be mini-workshops on supporting the soil-food-web in summer months, potting up seedlings and a chance to taste and learn about the unusual edible perennials. The permaculture design we are following is prepared by Kayode Olafimihan.
RSVP Essential: if you want to come along you need to let us know so we know numbers and we can give you all the specific details. Contact us here letting us know which permablitz you want to join.
Festival of Urban Landscapes for Nature and People
Saturday 21st – Sunday 22nd July
Hilldrop, Horndon-on-the-Hill, Essex SS17 8QB
Welcome to the first ever Festival of Urban Landscapes for Nature and People! Gathering to celebrate resilient cities filled with nature.  We'll be celebrating ways to design city landscapes and buildings for nature and people – from landscape and architecture design to plant selection, the detail of green roofs and walls to good landscape management.  Full programme of workshops and discussions across 4 acres of beautiful wildlife gardens, green roofs and brownfield landscapes.
Full info and booking here: https://www.eventbrite.co.uk/e/festival-of-urban-landscapes-for-nature-and-people-tickets-45622976551
Designing Edible Spaces – London
Friday 27th – Saturday 28th July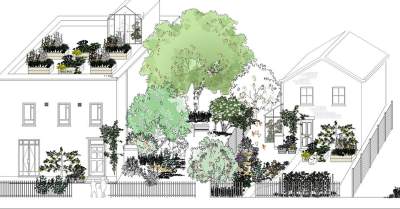 Skip Garden Kitchen, Tapper Walk, London N1C 4AQ
Would you like to be growing your own food but feel you don't have space or the time? Eating more organic food but think it's too expensive? This course will give you the design skills and knowledge to transform your garden or urban space into an abundant, edible garden, that is full of food, friendly to wildlife, looks good, and needs little maintenance. for more details see: https://www.facebook.com/events/251161735627873/
Capital Growth training courses in July
Saturday 7th July, 10.30am-1.30pm, Fermenting: sauerkraut, kimchi and fruit drinks, The Castle Climbing Centre, N4
Wednesday 11th July, 6.00pm-9.00pm, Introduction to Honey Bee biology: Principles of sustainable beekeeping practice and wider environmental context, The Castle Climbing Centre Garden, N4
Saturday 14th July, 10.30am-1.30pm, Composting toilets for community gardens: How to design and build your very own compost loo, Sydenham, SE26
Wednesday 18th July, 6.00pm-9.00pm, Forgaging walk, talk and taste: Summer's bounty revealed, Finsbury Park, N4
Saturday 21st July, 10.30am-1.30pm, Pond life: how to create a wildlife pond for every garden, Edible Landscapes London, N4
Saturday 28th July, 10.30pm-3.30pm, Chip bud grafting: Learn to graft your very own fruit tree, Finsbury Park, N4
See http://www.capitalgrowth.org/training/ for more details and links to booking pages.
Cafe Cairo
88 Landor Road,  Stockwell, London SW9
Every last Thursday of the month is South London Permaculture Cinema at Cafe Cairo. Doors open at 7pm, the evenings flow can be viewed on www.facebook.com/BrixtonEdge. Showing Eco films for change, promoting permaculture action in London, facilitated by Lola an evolving permaculture artist. Entry is free so what are you waiting for?
Permablitz London on Gardeners' World
Its not to late to see Permablitz London on Gardeners' World. Here's the link to iPlayer and you'll find us about 35 mins in: https://www.bbc.co.uk/iplayer/episode/b0b7r348/gardeners-world-2018-episode-13
and if iPlayer has elapsed try this youTube link: https://www.youtube.com/watch?v=gpKpa8TOkqs&t=9s
Forthcoming Events
Capital Growth training courses in early August
Wednesday 1st August, 6.00pm-8.30pm, Urban plant safari and botanical drawing, The Regent's Park Allotment, NW1
Wednesday 8th August, 6.00pm-8.30pm, Garden inspired craft, The Skip Garden, N1C
Saturday 11th August, 10.30-1.30pm, Plants as medicine and healing allies, Whetstone Stray Allotments, N12
Wednesday 15th August, 6.00pm-8.30pm, Learn to love insects: identify and home beneficial insects in your garden, St Luke's Community Centre, EC1V
See http://www.capitalgrowth.org/training/ for more details and links to booking pages.
Diploma Gathering 2018
Friday, 24 August – Sunday, 26 August
The Inkpot, Scredington, Lincolnshire NG34 0AH
Join us for an inspiring weekend of Diploma workshops and accreditations while camping in the beautiful surroundings of the Inkpot permaculture farm in Lincolnshire. In response to feedback from previous gatherings, there will also be a programme of children's activities so bring the family along. See https://www.permaculture.org.uk/noticeboard/event/convergence/diploma-gathering-2018 for more details and booking.
London Permaculture Network – Interactive Project Map
The London Permaculture network has launched a map of permaculture, and permaculture-friendly projects in London. Go to http://www.londonpermaculture.com/map/ to see it. Use the map to guide yourself around the projects in your local area, and the whole of London.
This map is still being developed, and we would love your project to be included! If you would like your project added to the map please contact us at info@londonpermaculture.com
Permaculture Magazine Prize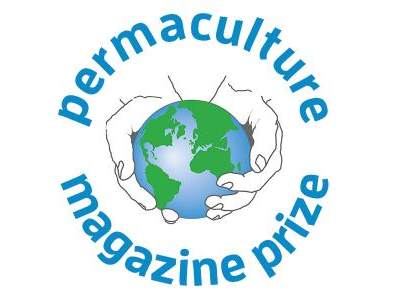 Permaculture magazine is launching the Permaculture Magazine Prize 2018 with a fund of £20,000. It will consist of one main award of £10,000 and four runners up of £2,500. The prize is open to any permaculture project in the world. We want to specifically award money to permaculture projects that reach ordinary people and demonstrate best practice permaculture both in terms of ecological and socially / culturally innovative design.We are looking for a variety of permaculture projects that are:
Regenerating damaged land
Enhancing habitat and biodiversity
Helping people to gain practical and community skills
Adding value to produce and developing local economies
Building community, creating social glue and greater economic resilience
Modelling new ways of cooperating and new cultural paradigms
Projects can apply if they have been functioning for at least three years and have established their place within their community. Please tell permaculture projects around the world about the prize. We want to hear from you! Online applications are open now and it's free to enter. For more details see https://www.permaculture.co.uk/articles/permaculture-prize-2018