3 Free Places on our Design for Social Change workshop
Saturday 3rd December, 9:30am – 4pm
CAN Mezzanine, 7-14 Great Dover St, London SE1 4YR
What role can design play in social change and environmental justice? This day long workshop will offer a space for discussing theories and sharing principles and tactics that help ensure our work can be most creative, engaging and effective. For more information see http://www.stirtoaction.com/workshops/stage-zero-design.
If you'd like to join Stir to Action and Transition by Design on this workshop, send 100 words on how this workshop will support your current campaigning and activism to workshops@stirtoaction.com
Carshalton Frost Fair
Saturday 3rd December, 1pm – 6pm
Honeywood Walk, Carshalton SM5 3NX
The Frost Fair is held in the beautiful setting next to Carshalton Ponds and is a traditional free winter event with activities for all of the family. As it gets darker, the area will be lit with twinkling fairy lights and you can do some shopping.
Outside Honeywood Museum and in the nearby Memorial Gardens and Festival Walk there will be stalls from the Wallington Farmers Market, offering a varied range of tasty treats as well as a variety of local craft stalls selling wonderful gift ideas such as glassware, pottery, woodcraft and more. There will a tasty hog roast & seasonal food with bar & warming drinks.
For more information see http://ecolocal.org.uk/event-detail.php?id=112
Planting Trees in Hackney
Saturday 3rd and/or sunday 4th December 10am – 1pm
Central path, North Milfields park, near Canal entrance, Lea Bridge Road E5 9QQ
Planting trees in and around the North Millfields arboretum. We will be planting trees grown at the Hackney Community Tree Nursery. All welcome. Tools and training provided. Wear strong shoes. for more details see http://sustainablehackney.org.uk/tm
London Permaculture Festival Organising Meeting
Sunday 4th December 11:30am – 1pm
Cecil Sharp House, 2 Regents Park Road, NW1 7AY
The next London Permaculture Festival is taking place on Sunday 30th July 2017, once again at Cecil Sharp House in Camden. As in previous years, we are looking for people who would like to get involved (the festival is organized on a voluntary, not-for-profit, grassroots basis). We need help with: publicity, sponsorship, stalls market, leafleting and generally getting the word out there! If you would like to be part of the team at the festival email info@londonpermaculturefestival.com and come along to the meeting to kick off our plans for next years festival.
Cecil Sharp House garden is part of the permaculture LAND (Learning And Network Demonstration) network of permaculture sites set up to show permaculture in practice. The garden is open to the public throughout the year. For more information see http://www.cecilsharphouse.org/csh-visit-us/csh-garden or email csh-landproject@permablitzlondon.com
Christmas Craft Upcycling Workshop
Wednesday 14th December 6pm
Paddington Library, 45 Porchester Road, London W2 5DU
Do you really have to buy new Christmas decorations every year? Why not use recycled materials to create some of your own at our two hour workshop? Not only will you save money but you will break the crazy consumerist cycle as well. This is a free event but places are limited. To book your place email recyclingchampions@westminster.gov.uk
DIY Herbal Xmas Presents Workshop
Saturday 17th December, 2pm

Studio 16 Celia Fiennes House, 8-20 Well Street E9 7PX
Join Nat from Hackney Herbal for a hands-on session showing you how to make your own herbal xmas presents. The workshop will talk you through the basics of how we turn herbs into products and you will get a chance to have a go yourself and take home what you make. A great chance to avoid the bustling shops and learn how to make your own ethical gifts! Tickets, £12 book here: https://billetto.co.uk/en/events/diy-herbal-xmas-presents-workshop-647bc9
Build Your Own
Solar 

Charger
Saturday 17th December 9:30am – 5pm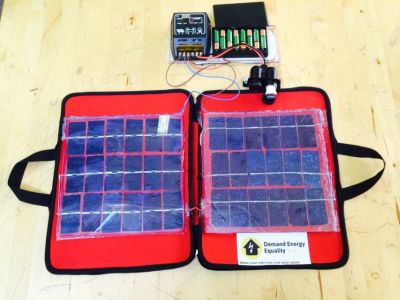 Axion House, 1 Silver Road, Lewisham, South London
Create your own portable solar charger from re-used materials able to power phones & USB devices. No prior knowledge required, and you take your charger home at the end of the day. All materials provided, including charging components. 5 min walk from Lewisham Station. 97% of public workshop attendees rated our course as 'excellent' or 'very good'. More information and booking on website
Introduction to Off-Grid systems workshop
Sunday 18th December 11am – 3:30pm
Axion House, 1 Silver Road, Lewisham, South London
Learn off-grid design principles and gain practical skills to build renewable energy systems. Design & create a 12V off-grid system capable of powering lighting, phones and laptops – with an introduction to larger systems. More information and booking on website
Christmas at London's City Farms

Surrey Docks Farm Christmas Fair
Saturday 3rd December 2016, 11am – 4pm
Surrey Docks Farm, Rotherhithe St, London SE16 5ET
Our farmyard is set to be transformed with local food and craft stalls selling all sorts of Christmas gift ideas. The ever popular Peach Brandy sold by the local Church stall will be in attendance. Get there early! Father Christmas will be back this year taking orders from excited kids. His elves have promised to keep him supplied with mince pies and ensure every child gets a present. Our livestock team will be hard at work helping in the "Meet the Animals" paddock, where you can cuddle a rabbit and stroke a goat! More details at http://www.surreydocksfarm.org.uk/christmas-fair-3rd-december-2016/
Festive Farm Fun at Vauxhall City Farm
Friday 9th, Saturday 10th and Sunday 11th December 10:30am- 4pm
Vauxhall City Farm, 165 Tyers St, Lambeth, London SE11 5HS
Fun for all ages! Our craft sessions will include making and decorating your own Stocking & Tree Ornaments. Cuddle Corner is your chance to get up close with our animals. Come get dressed up and get your photo taken with our animals in our real life Christmas Nativity! For more information see http://vauxhallcityfarm.org/whats-on/
Mudchute's Annual Christmas Event
Saturday 10th December, 11am-4:30pm
Pier St, Isle of Dogs, London E14 3HP
Our beloved Santa Claus will be joining us once more, taking up temporary residence in Mudchute's Santa's Grotto.
This year he is bringing his Elves! Santa's Elves are happily installing a Crafts Workshop and are looking forward to creating Christmassy goods with children and adult visitors. A Christmas Market of local stall holders will cover our streets. A Fairground Ride will arrive for the occasion. Two Christmas Choirs will be spreading Christmas cheer. Parish of the Isle of Dogs will be blessing us with a Living Crib. We will have a short Parade of our Ducks, dressed for the occasion. Finally, our Christmas Lights Display will be switched on at 4:30pm. For more details see https://www.mudchute.org/news/christmas-day-event
Hackney City Farm Winter Craft Fair
Saturday 10th December, 12 noon – 4pm
Hackney City Farm, 1a Goldsmiths Row, London E2 8QA
Admission is free. See http://hackneycityfarm.co.uk/ for more details
Christmas Fayre at Kentish Town City Farm
Sunday, 11th December, Noon – 4pm
Kentish Town City Farm, 1 Cressfield Close, London NW5 4BN
Bring the kids to the Christmas Fayre at Kentish Town City Farm. Santa's Grotto, Pony Rides, Face Painting, Arts & Crafts, Games, Goat Grooming, Christmas Cafe, Live Music, KTCF Cards & Crafts Stall. All proceeds from the event go to support the farm. More details at http://ktcityfarm.org.uk/whats-on/holidays-special-events/
Salvation Army Nativity Play at Stepney City Farm
Sunday 11th December, 2pm – 4pm
Stepney City Farm, Stepney Way, London E1 3DG
The local Salvation Army will be acting out the Nativity around the Farm, come and see them perform. No charge to attend, just come and enjoy the fun
St Dunstan's Church Nativity at the Farm
Saturday 17th December, 12 noon
Stepney City Farm, Stepney Way, London E1 3DG
Our friends from St Dunstan's will be doing their annual Nativity at the Farm. You can join in too! No charge to attend, just come and enjoy the fun
Cafe Cairo
88 Landor Road,  Stockwell, London SW9
Every last Thursday of the month is South London Permaculture Cinema at Cafe Cairo. Doors open at 7pm, the evenings flow can be viewed on www.facebook.com/BrixtonEdge. Showing Eco films for change, promoting permaculture action in London, facilitated by Lola an evolving permaculture artist. Entry is free so what are you waiting for?
Eric Toensmeier: Carbon Farming
Report from meeting
About sixty people turned up at short notice for a rare chance to hear Eric Toensmeier, a leading North American expert speak on carbon farming in London on 25th October. The meeting was organised by the Permaculture Association, and the London Permaculture Network helped to promote it. Eric talked about a variety of techniques being used to farm and sequester carbon at the same time. He spoke about the importance of agroforestry – combining different trees, shrubs and perennials that then produce a variety of crops at the same time as collecting carbon. He pointed out that we can learn a lot from the approach of indigenous people, who generally have a much lower rate of deforestation and planted polycultures, many of them perennials. There was a lively question and answer session and at the end he was available to sign copies of his new book.
He is very keen to spread the word so that this alternative approach to mitigate climate change can gain headway. You can find out more about his approach and about the new book at his website: http://carbonfarmingsolution.com/. If you would like to watch the video of the event it is available on the Permaculture Association's Facebook page: https://www.facebook.com/pg/PermacultureAssociation/videos
Forthcoming Events
London Permaculture Network Meeting
Saturday 14th January 2017, 2pm – 3:30pm
Stepney City Farm, Stepney Way, London E1 3DG
Come along to our winter meeting, and help us plan our work in 2017, and how we can further develop the network. If there are particular items you would like added to the agenda please email the chair, Kayode, at info@londonpermaculture.com
Stepney City Farm is part of the permaculture LAND (Learning And Network Demonstration) network of permaculture sites set up to show permaculture in practice. For how to get there, opening times and facilities see http://stepneycityfarm.org/about-the-farm/visit/
Joel Williams: Creating healthy and vibrant soil
Sunday 15th January 1pm – 5pm
Cecil Sharp House, 2 Regents Park Road, NW1 7AY
Although hidden to the naked eye, soil contains a vast and diverse ecosystem utterly bursting and brimming with an abundance of life. This hidden workforce performs a multitude of wonderful benefits to soil and plant health. This workshop will delve into this fascinating world and explain how to work with a living soil to optimise soil structure, nutrient supply to plants and how to keep pests and diseases at bay. This workshop, organised by Cecil Sharp House LAND Project, is part of a series of 3 workshops about the soil-food-web, and how we can work with it to build healthy, productive soil. Future workshops will discuss practical ways to build soil life with plant diversity, composting and compost teas, and on lawn and plant care – pest and disease resistance through the soil food web. You are welcome to join us for lunch in the Cecil Sharp Cafe at 12 noon.
The Cecil Sharp House garden is a Permaculture LAND (Learning And Network Demonstration) project. We have established an awarding winning low maintenance, decorative, ecological and edible design for the permaculture garden highlighting the soil-food-web, permaculture guilds and edible perennials while creating a variety of wildlife habitats. The garden won Camden in Bloom Best Business Garden in 2016.
Tickets are £20 (£12 concessions) and can be booked at https://billetto.co.uk/en/events/joel-williams-creating-healthy-and-vibrant-soil
Joel Williams is an independent farming educator and crop and soil health adviser. His workshop at the London Permaculture Festival 2016 was full to bursting. He is also the grower for Growhampton – an edible campus at the University of Roehampton; growing organic vegetables to inspire and teach students, staff and local community about food growing. He has a keen interest in soil health, agroecological food production systems, urban farming and plant-microbe interactions. Through educating and engaging both farmers and consumers around food production and consumption, Joel is motivated to improve the sustainability of our food systems. More information about Joel on this website  soilandfood.com
Permaculture in Reading
Begins 21st January 2017 for 6 alternate weekends
Reading International Solidarity Centre, 35-39 London St, Reading RG1 4PS
Sector39 are offering a full permaculture design course at RISC Reading from Jan 2017. The course involves 80+ hours of study via presentations, workshops and practical sessions that will provide a clear and practical framework for all participants to bring permaculture into their own lives and work. It is spread over 6 alternative weekends and is open to anyone with an interest in permaculture and sustainability. We will be accessing the award winning RISC roof garden as well as exploring the possibilities for developing resilience in urban centres. More info is available at http://www.permaculturedesigncourse.co.uk/?p=1171