Income generation for community gardens
Saturday 2nd September, 10:30am-1:00pm
Regent's Park Allotment Garden, Inner Circle, London, NW1 4NP
This is a new date! Getting income into your community garden doesn't just mean fundraising. For many groups the idea of trading to generate income can be a daunting one, but small-scale trading can generate not only income but new skills for your community garden. This session will help you develop some innovative ideas and activities using your space, your skill and your produce that could generate income to your project. Organised by Capital Growth. For all our coming training sessions please visit: http://www.capitalgrowth.org/training/
Film Screening at Glengall Wharf Gardens
Sunday 3rd September, 7pm
Glengall Wharf Garden, 64, Glengall Road, Peckham, SE15 6NF
Peckham and Nunhead Free Film Festival screening 'Flicker and Pulse' plus Q&A with director after film. For more details see https://burgessparkfoodproject.org.uk/2017/07/25/whats-on/
Strawbale and clay building courses
Wednesday 6th September to Sunday 10th September, 8:45am–5pm
and Monday 11th September to Friday 15th September, 8:45am–5pm
Organic Lea, 115 Hawkwood Crescent, Chingford, E4 7UH
Straw Works are bringing their hugely experienced natural building tutors to Hawkwood, Organiclea's market garden and community site at the edge of Epping Forest in North East London! Join us to build the strawbale walls of our classroom, and plaster them with clay. Discover the benefits of natural building materials and gain practical skills on how to incorporate them into a conventional building refurbishment. The first course runs from 6-10 September and will cover practical aspects of strawbale building including how to dress and customise bales, notching, loadbearing and infill techniques, compression and much more. The second course on clay plastering runs from 11-15 September. See https://www.organiclea.org.uk/we-help-you-grow-your-own/training-2/training/ for more details and booking of this and other training.
EcoDIY Land Center open weekend
Saturday 9th September and Sunday 10th September, 10am – 4pm each day

193 Burrs Rd Clacton, Essex CO15 4LN
Climate change, the overuse of natural resources and destruction of the natural world is facing us all with an unprecedented crisis. Rosie and I believe in taking personal responsibility for the way we live and affect the world around us. come and see our progress applying energy and water saving ideas to our house here in Clacton-on-Sea in Essex, growing our own food and interacting with others with the same objectives. See http://www.ecodiy.info/ for more information.
Offline Festival – unearth the power of community!
Friday 15th to Sunday 17th September
Hounslow Hall Estate, Buckinghamshire (near Bletchley)
Offline Festival – unearth the power of your community – is designed to equip you with the ideas and tools needed to create a positive impact in your local community. Join us for an 'unconference in the countryside' for three days of hands-on learning, business skill-building and epic stories while connecting with like-minded individuals over a campfire chat or ceilidh. Project Dirt welcomes community businesses, social enterprises, community projects, purpose-driven businesses, family and friends for a weekend of up-skilling yourself, re-energising your team and having fun! Check out the final line-up: www.offlinefestival.org.uk
Come and celebrate the fruity harvest of Cecil Sharp House garden
Saturday 16th September 10.30am-12.30pm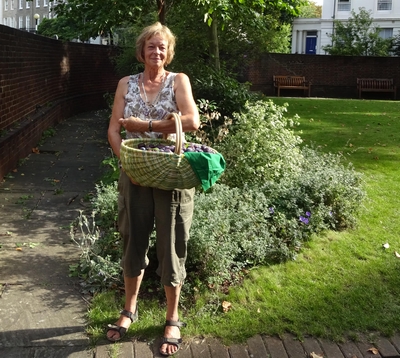 Cecil Sharp House, 2 Regent's Park Road, Camden, London NW1 7AY
Come and find out about the unusual edibles in the Cecil Sharp House Permaculture LAND project on an educational tour of the garden. This will be followed by teas and tisanes from the garden accompanied by fruity cakes made by the Cecil Sharp House garden cooking circle from apples and plums harvested in the garden. this event is part of Capital Growth's Urban Harvest Day – see http://www.capitalgrowth.org/opengardens/ for more information
Two day Introduction to Permaculture
Saturday 16th & Sunday 17th September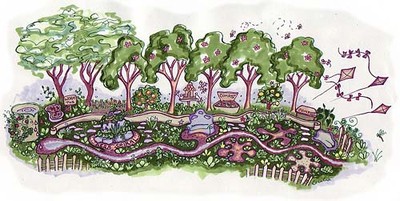 Treadwell, 5 Tredwell Close, London SW2 3TL
Learn the basics of Permaculture Design on this two-day Introduction to Permaculture and be ready to try it out in your garden, your workplace and your life. Find out more and register here: http://www.sociallandscapes.co.uk/events/2017/9/16/tread-well-on-earth-a-2-day-introduction-to-permaculture 
Introduction to Permaculture
Saturday 16th & Sunday 17th September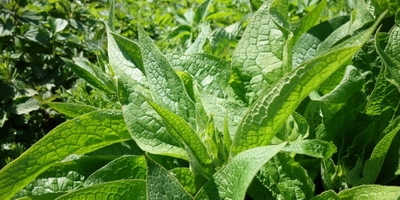 Arc Hall, Hoathly Hill Community, West Hoathly RH194SJ
The Introduction to Permaculture is a weekend course giving you an overview of permaculture, its key design tools, case studies of permaculture people and places and some practical activities. You have the opportunity to try out permaculture design tools on a project of your choice. Lifts from East Grinstead train station available. for more details see: http://www.sunrisepermaculture.org.uk/portfolio/introduction-to-permaculture/
September Celebration
Sunday 17th September 12-4pm
Glengall Wharf Garden, 64, Glengall Road, Peckham, SE15 6NF
Annual open day to celebrate a great year at Glengall Wharf Garden. Part of the Peckham Festival. See https://burgessparkfoodproject.org.uk/2017/07/25/whats-on/ for more details.
Pop up preserves: Learn to harvest the hedgerow
Monday 18th September, 6pm-9pm
The Table Café, 83 Southwark Street, London SE1 0HX
Join foraging and preserving chef Rachel de Thample for an evening of gathering autumnal fruits from the hedgerows. We'll then head into The Table where you can sip on a hedgerow-inspired cocktail while she guides you through key seasonal preserving techniques such as drying, jamming, fruit butters, and homemade tipples. You'll then get to make up your own hedgerow-inspired gin or infused vinegar before feasting on a seasonal supper. Organised by Capital Growth. For all our coming training sessions please visit: http://www.capitalgrowth.org/training/
Food growing in the curriculum
Wednesday 20th September, 5:30pm-8pm
The Regent's Park Allotment Garden, Regent's Park, London NW1 4NR
If you have a community garden, have children, or work with children come along to this session for ideas on ways to offer engaging and inclusive creative activities and experiences that encourage children to discover, share, and build on their understanding of wildlife and seasonal plants growing in the garden. Organised by Capital Growth. For all our coming training sessions please visit: http://www.capitalgrowth.org/training/
Growing autumn and winter vegetables
Saturday 23rd September, 10:30am-1pm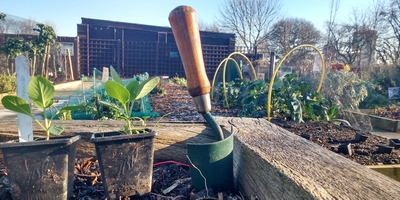 Cordwainer's Garden, 182 Mare Street, London E8 3RE
If you want to grow food all year round, then this is the time to plan your winter garden. During this session we'll go through the best vegetables to grow in our lovely winter climate, while looking at the challenges that growing in winter brings and how to work around them. Organised by Capital Growth. For all our coming training sessions please visit: http://www.capitalgrowth.org/training/
Cecil Sharp House Permablitz:  Maximising our Edible Yield with Unusual Perennials
Sunday 24th September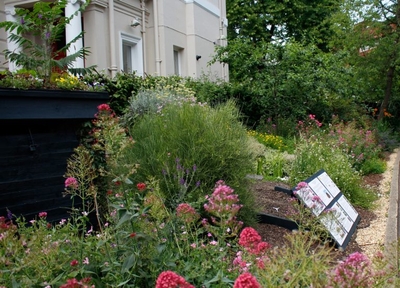 Cecil Sharp House, Camden NW1
We will be gathering for an autumnal permablitz at Cecil Sharp House permaculture learning and demonstration garden where the focus will be on planting more unusual edible perennials. Adding new perennial plants at this time of year gives their roots a chance to become established before winter sets in, meaning they get a good start to grow next spring. This permablitz will include a garden tour to talk about the existing plants and design. RSVP Essential: if you want to come along you need to let us know so we know numbers and we can give you all the specific details. Contact us here
Nature Connection with Ida Fabrizio
Sunday September 24, 11am-1:30pm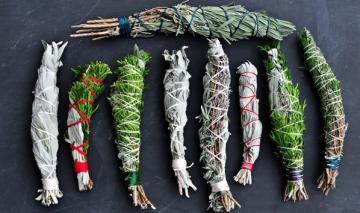 Edible Landscapes, Finsbury Park, London N4 2NQ
Connect to self, to others and to nature in your garden. Feeling connected to nature has been shown to be beneficial to wellbeing and pro-environmental behaviour. Come on this short course to discover new practices for developing a deep nature connection and play games that will use all your senses to increase your awareness. For more details see http://www.ediblelandscapeslondon.org.uk/event/nature-connection-ida-fabrizio
Sustaining ourselves, developing personal and group resilience
Tuesday 26th September 7-9.30pm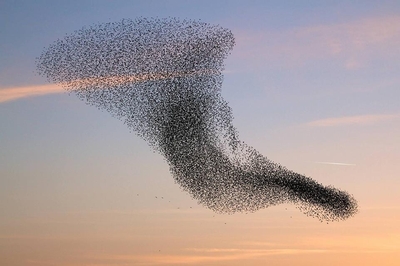 Oxford
Being involved in campaigns and taking action on issues of social and environmental justice can be immensely rewarding. It can also pose challenges. How do we respond to overwhelming news? How do we deal with insufficient political action without burning out, feeling overwhelmed by despair or taking our frustrations out on other group members? A taster evening followed by a one day workshop for people who want to learn healthier and more effective ways of working together and looking after themselves. for more details email sustainingourselves101@gmail.com or call Jo on 07941 135 664.
Orchard Project Apple Harvesting Events
throughout September, throughout London!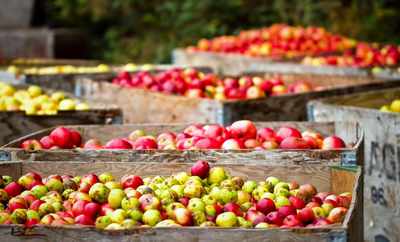 September means apple harvesting! Join the Orchard Project at events across London to harvest this delicious bounty! For more details see https://www.theorchardproject.org.uk/events/
Apple Harvest Get Together, S.E. London, Wednesday 6th September, 10.30-3pm, Beckenham
Apple Pressing & Craft Cider Making, Monday 11th September, 10.30am-5.30pm, Herne Hill London SE24
Apple Harvest Get Together, Thursday 14th September,Southgate, london N14
Apple Harvest Get Together, Thursday 28th September 10am-2.30pm, Ilford, London
Apple Harvest Get Together, Friday 29th September, 10am – 2.30pm, Woodford Green, London
Apple Pressing & Craft Cider Making, Saturday 30th September, 10.30am-5.30pm, Herne Hill, London SE24
Please contact lewis@theorchardproject.org.uk with any questions.
Cafe Cairo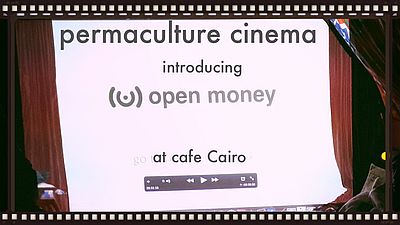 88 Landor Road,  Stockwell, London SW9
Every last Thursday of the month is South London Permaculture Cinema at Cafe Cairo. Doors open at 7pm, the evenings flow can be viewed on www.facebook.com/BrixtonEdge. Showing Eco films for change, promoting permaculture action in London, facilitated by Lola an evolving permaculture artist. Entry is free so what are you waiting for?
25 years of Permaculture Magazine!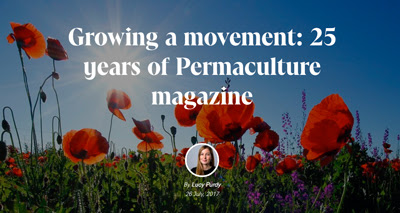 The 25th issue of Permaculture Magazine was launched at the London Permaculture Festival and to mark the occasion Lucy Purdy, editor of Positive News has interviewed Maddy and Tim Harland, who founded the magazine. You can read the article here: https://www.positive.news/2017/environment/28521/growing-a-movement-25-years-on-permaculture-magazine/
London Permaculture Network – Interactive Project Map
The London Permaculture network has launched a map of permaculture, and permaculture-friendly projects in London. Go to http://www.londonpermaculture.com/map/ to see it. Use the map to guide yourself around the projects in your local area, and the whole of London.
This map is still being developed, and we would love your project to be included! If you would like your project added to the map please contact us at info@londonpermaculture.com
Forthcoming Events
Permaculture Design Course – Make A Life, Make A Livelihood
Sunday 1st October – Friday 3rd November
Quadrangle, Shoreham, Kent TN14 7RP
Permaculture is concerned with what truly matters, our most basic human needs, from clean water and healthy food to companionship and belonging, purpose and self-actualisation. It is a design approach that uses patterns and principles from natural ecosystems to help us meet our needs in cooperation with people and planet.
The Permaculture Design Course is a 72-hour, often life-changing experience, accredited by the UK Permaculture Association. This is a residential course with two separate residential weeks at the Quadrangle. Find out more here: http://www.sociallandscapes.co.uk/events/2017/2/3/permaculture-design-course-make-a-life-make-a-livelihood
Outdoor and campfire cooking
Saturday 7th October, 10:30am-1pm
Oasis Nature Garden, Larkhall Lane, London SW4 6RJ
The team at Oasis Nature Garden will be taking you on a tour of this amazing space in the heart of Stockwell with woods, meadow, vegetable patch and ponds to explore, forage and learn about the abundance of food you can find on your own doorstep, then retreating to the campfire to learn to cook outdoors! Organised by Capital Growth. For all our coming training sessions please visit: http://www.capitalgrowth.org/training/
Abundance Day at Forest Farm Peace Garden
Sunday 8th October, 12-4:30pm
Forest Farm Peace Garden, end of Hazelbrouck Gardens, Forest Farm Allotments, Hainault IG6 2XL
Forest Farm Peace Garden to host "Abundance Day" to celebrate the bounty of summer harvest. Attendees will have a chance to listen to live music and take part in free workshops. for more details see https://forestfarmpeacegarden.wordpress.com/events/upcoming-and-recent-events/
Forest Garden Chutney and Chocolates
Sunday October 8, 10:00am-2:00pm
Edible Landscapes, Finsbury Park, London N4 2NQ
Join us to make your own vegan forest garden chutney and chocolates! These treats make excellent gifts if you can manage to avoid devouring them yourself. The workshop is led by our resident food genius Carolina Stupino, and will take place around the corner from us at The Redmond Community Centre, Kayani Avenue, London, N4 2HF. See http://www.ediblelandscapeslondon.org.uk/training
Introduction to seed saving
Saturday 14th October, 10:30am-1pm
St Luke's Community Centre, 90 Central Street, London EC1V 8AJ
This training will cover the basic knowledge of growing, collecting and storing seeds from a plant, organically. This training is open to everyone. No gardening experience is required. Organised by Capital Growth. For all our coming training sessions please visit: http://www.capitalgrowth.org/training/
Compost Workshop
Saturday 14th October, 9.30am-4pm
Sutton Community Farm, 40a Telegraph Track, Wallington, SM6 0SH
Come along and find out how composting is vital for healthy soil, reducing waste and can save you money too! If you've never composted before, or are looking to improve your existing composting come along and join this practical session on our working farm. See http://suttoncommunityfarm.org.uk/events/compost-workshop-saturday-14th-october-9-30am-4pm/ for more details