Permablitz at Forest Farm Peace Garden
Saturday 6th October, 10am-5.30pm
Hainault, East London
Come and help plant and find out about native forest garden plants on this permablitz. It is the second of three to implement a project funded by 'Grow Wild' (led by Kew Gardens) to showcase edible, wildlife-friendly plants that have been growing in Britain since ancient times. Mini-workshops will cover 'what are native plants?', an overview of the plants, and an explanation of Forest Farm Peace Garden's forest garden design and this new area being established.
RSVP Essential: if you want to come along you need to let us know so we know numbers and we can give you all the specific details. Contact us here
One day Intro to Permaculture
Saturday 6th October, 10am-4pm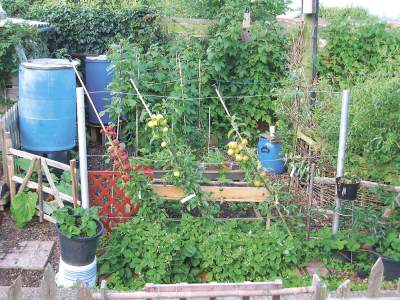 Furtherfield Commons, Finsbury Park, London N4
Permaculture is the practice of integrating specialisms & working with nature- the aim is improving our understanding of the world to design engaging environments that support ecology & community. We will look at: Ethics and principles, Design, Examples of permaculture, Observation
The day will be a lively, participatory and thought provoking experience with Claire White Dip. Perm. Des. – Permaculture practitioner & teacher. More details: https://www.permaculture.org.uk/education/course/one-day-intro-permaculture
Introduction to Forest Gardening
Tuesday 9th October, 6.00pm-8.30pm
Cecil Sharp House, 2 Regent's Park Road, London NW1 7AY
A Forest Garden is a designed agronomic system based on trees, shrubs and perennial plants. These are mixed in such a way as to mimic the structure of a natural forest – the most stable and sustainable type of ecosystem in this climate. In this session, you can discover how to implement these principles within an urban context and beyond. Trainer – Susannah Hall. To book see https://www.eventbrite.co.uk/e/introduction-to-forest-gardening-tickets-45768601118
Abundance Day at Forest Farm Peace Garden
Sunday October 14, 12pm-4pm

Forest Farm Allotments, end of Hazelbrouck Gardens, Hainault, London IG6 2XL
Our annual autumn event to celebrate our apple harvest and mark World Mental Health Day. Join us for wellbeing and art activities, workshops, therapies, children's activities, craft and produce stalls, apple juice pressing, hot food and cakes.
Workshop programme: Introduction to forest gardening and UK native plants; herbal balm making; wild food foraging with the history and folklore of apples; nature connection and wellbeing; recycled art & craft making; learn to knit or crochet.Free entry, donations welcome.  More details: https://www.forestfarmpeacegarden.org/
Good Food Good Farming March
Sunday 14th October, 11.30am-1.30pm
Parliament Square, London SW1
We all have a right to good food – it's a basic human right! As the UK prepares to leave the European Union and the Agriculture Bill is being finalized we need to ensure farmers are able to produce nutritious ecological, healthy food and everybody has guaranteed access to it. Join us to demand a better, healthier food system and support for ecological farming, ahead of World Food Day (16th) and negotiation of the UK's Agriculture Bill. More info at https://www.goodfoodmarch.org/
How to create a plant community of autumn salads and spring bulbs
Thursday 18th October, 6.30pm-8.30pm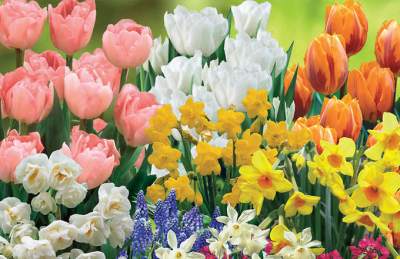 Battersea Arts Centre, Lavender Hill, London SW11 5TN
Come and find out how to create a plant community by combining plants that play different roles, where each contributes to what the others need. We will be planting autumn salad seeds and spring bulbs. You will learn about how the autumn salads contribute to the fertility of the soil and support the growth of the bulbs. Some of the earliest plants to flower in late winter/spring are bulbs: snowdrops, crocuses, daffodils etc. They provide much needed nectar during the first part of the year to bees and we will be planting them in preparation for the installation of the Battersea Arts Centre Community Garden. Organised by Permablitz London, free to attend. Please email info@permablitzlondon.com for more details.
Build Your Own Solar Charger
Saturday 20th October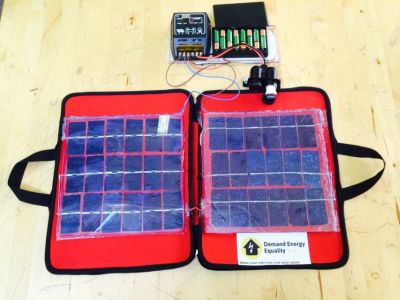 Unit C, 59 Ladywell Road, Lewisham, London, SE13 7UT
Create your own portable solar charger from re-used materials able to power phones and USB devices. Take your charger home at the end of the day, all materials provided, including charging components, bring a friend and get 10% off, book with Introduction to Off-grid Systems and save £15. 95% of public workshop attendees rated our course as 'excellent' or 'very good'.  More info at https://www.demandenergyequality.org/
Permablitz at Glengall Wharf Garden
Sunday 21st October, 10am-5pm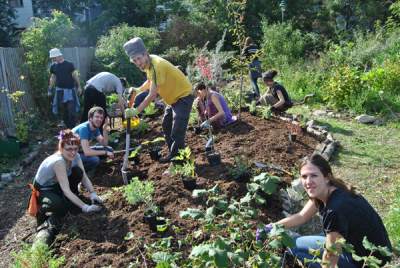 Peckham, South London
Come and find out about compost – the morning of this permablitz will consist of a workshop all about compost and then in the afternoon we will be laying down compost on the spot in the form of a lasagne mulch over the forest garden. We have been laying down a lasagne mulch of cardboard, manure and woodchip every year since the first permablitz at Glengall Wharf Garden in September 2013 so you will have a chance to see how the soil and the plants have developed since then.
RSVP Essential: if you want to come along you need to let us know so we know numbers and we can give you all the specific details. Contact us here letting us know which permablitz you want to join.
RHS Urban Garden Show
26-28 October 2018
Westminster, London SW1P 2QW
London Permaculture will be at the RHS Urban Garden Show with a stall, doing a scheduled Introduction to Permaculture talk, and running a series of botanical tie dye workshops. We are seeking volunteers for the stall, and will have a timetable so you get a chance to see the rest of the show as well. If you would like to help out, please email Susannah, letting her know when you can make it, at info@permablitzlondon.com
Introduction to Permaculture
Tuesday 30th October
The South London Botanical Institute, 323 Norwood Road, London SE24 9AQ
Permaculture is an ethical design system, based on ecological principles, that creates sustainable and regenerative human habitats by following nature's patterns. This evening will introduce it's core ethics, principles and design tools focusing in particular on it's relevance to horticulture and individual and community collaboration. We will look at where you can see permaculture applied at Permaculture Learning and Demonstration sites around London and we will also consider how attendees can apply permaculture in their own lives.
Speaker: Susannah Hall, head gardener at Cecil Sharp House permaculture LAND project and for several private gardens. She is a permaculture designer and offers training in permaculture design and gardening. Tickets from https://www.eventbrite.co.uk/e/introduction-to-permaculture-tickets-50403846261
Capital Growth training courses in October
Saturday 6th October, 10.30am-1.30pm, Make your own natural household & skincare products using common herbs, Whetstone Stray Allotments, N12
Tuesday 9th October, 6.00pm-8.30pm, Introduction to forest gardening, Cecil Sharp House, NW1
Saturday 13th October, 10.30am-1.30pm, Natural winter cures for coughs and colds, Spitalfields City Farm, E1
Saturday 20th October, 10.30am-1.30pm, Sustainable cut and edible flowers for enterprise, Sydenham Garden, SE23
More information and links to booking pages here https://www.capitalgrowth.org/training/
Stir to Action's New Economy Programme – workshop discount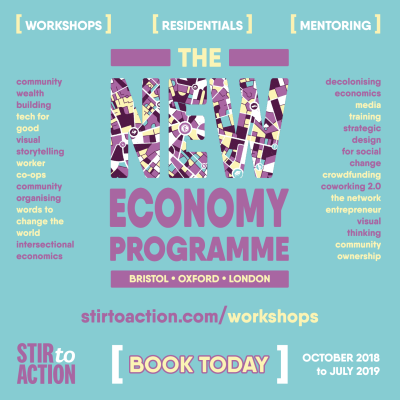 Book your place for New Economy workshops October – July
Stir to Action have launched an exciting New Economy Programme, a year of 30 workshops, residentials, free mentoring, and live crowdfunding in Bristol, Oxford, and London! See the full programme here, and to receive a 20% discount off any workshop (£60 instead of £75), email the code 'PermieLondonNEP' to workshops@stirtoaction.com.
Musical Compost for the Soul!
West Aussie permaculture band, Formidable Vegetable are making a new album called Earth People Fair inspired by the permaculture ethics! There's a week to go on their crowdfunding campaign & heaps of fun rewards/music left to give away. Get behind it: bit.ly/earthpeoplefair
Forthcoming Events
Introduction to Permaculture
Saturday 10th November – Sunday 11th November
Arc Hall, Hoathly Hill Community, West Hoathly RH194SJ
The Introduction to Permaculture is a weekend course giving you an overview of permaculture, its key design tools, case studies of permaculture people and places and some practical activities. You have the opportunity to try out permaculture design tools on a project of your choice: here you will have design support and go away with your first permaculture design. After this course, you are ready to get started in permaculture!
More information and booking : http://www.sunrisepermaculture.org.uk/portfolio/introduction-to-permaculture/
Understanding all about fruit trees
Thursday 15th November • 6.30pm-8.30pm
Battersea Arts Centre, Lavender Hill, London SW11 5TN
This workshop will explain how fruit trees grow and what to consider when planting them. As well as explaining rootstocks, pollination partners and spacing, the workshop will also look at how to create an ecological design to support your fruit trees. Organised by Permablitz London, free to attend. Please email info@permablitzlondon.com for more details.
Permaculture Association Annual General Tree Planting Meeting
Saturday 17th November, 11am – 5pm
Stepney City Farm, Stepney Way, London E1 3DG
Join us for our first ever AGTPM – An Annual General Tree Planting Meeting!
This year we will be meeting at Stepney City Farm to present the annual review and accounts, elect new trustees, look at our strategy, run some fantastic practical workshops and plant some trees. Whether you can join us in Stepney or not, now is a great time to start thinking about where you could plant a tree (or more) this winter. Treeplanting is a brilliant and inclusive activity for young and old and every one planted helps our world. We want to make tree planting a regular part of what the Association does, and celebrate the practical work we do in permaculture. For more information and booking go to
https://www.permaculture.org.uk/noticeboard/event/general-event/permaculture-association-annual-general-tree-planting-meeting
---
London Permaculture Network – Interactive Project Map
The London Permaculture network has launched a map of permaculture, and permaculture-friendly projects in London. Go to http://www.londonpermaculture.com/map/ to see it. Use the map to guide yourself around the projects in your local area, and the whole of London.
This map is still being developed, and we would love your project to be included! If you would like your project added to the map please contact us at info@londonpermaculture.com