London Permaculture Festival Is Here!
There's a lot happening at the festival this year: workshops, how to… sessions, a stalls market, music, storytelling and a kid's zone. All this for the entrance price of £6 (£4 concs). Looking forward to seeing you there…
Workshops will include:
Introductions to Permaculture
Big Picture Permaculture – Inspirational projects near and far!
Music and Culture of the Baka, rainforest people of Central Africa – a singing workshop
Building with Strawbales
10 edible perennials to float your boat!
Natural Beekeeping Trust
Listening to the Other: the fertile ground of social diversity
Permaculture in Cuba… and some lessons for the International Permaculture Convergence in London 2015
How can we help the International Permaculture Convergence next year be the best, biggest and most diverse permaculture gathering ever
Aquaponics and Tilapia in my garage
Seeds of Fashion – growing a London garment
Lets design a Garden City
The Railway Garden – designing a city allotment project
Permablitz in London: edible garden makeovers
Permaculture in Pots
How to create a genuinely self watering container garden
Plus much more! The full timetable is now available on the website
LPN Needs You – Volunteer Shout Out
Anyone out there that can help make festival 2014 even better than before? It is organised entirely by volunteers so it's in our hands! If you would like to get involved, either beforehand or on the day itself, please contact us at: info@londonpermaculturefestival.com
SUNDAY 6 JULY 11AM – 6PM, CECIL SHARP HOUSE, CAMDEN
For more information about the festival go to www.londonpermaculturefestival.com
Permaculture Picturehouse
Tuesday 3 June – Pre-festival summer party with the Formidable Vegetable Sound System

1st Tuesday of the month – Always at Passing Clouds, Hackney, 1 Richmond Rd, E8 4AA, Behind the Haggerston Pub. Doors open at 6.45pm
This month's Permaculture Picturehouse falls just before our annual London Permaculture Festival on Sun 6th July – so we're getting everyone ready for the big day by having a summer party with music from Charlie McGee & the Formidable Vegetable Orchestra (stars of last years festival, catching them on their return from this year's Glastonbury Festival). Expect an evening of Permaculture inspired music, fun games & summer mayhem
Permaculture Picturehouse is London's regular permaculture social event – feature length and short films on subjects from the whole permaculture spectrum of interests, accompanied by talks from people involved in local and national projects. All night bar and delicious locally sourced vegetarian food.
For exactly the same info www.permaculturepicturehouse.co.uk
Next month – 5th August- watch this space, or see the website!
Introduction to Permaculture
Saturday 5 July and Saturday 12 July, 9.30am-5.30pm
Organic Lea, Hawkwood Plant Nursery, 115 Hawkwood Crescent, Chingford, E4 7UH
This two day course offers an overview of permaculture principles, design methods and processes, and an opportunity to see examples of permaculture design implemented at Organiclea's Hawkwood Nursery site.
The courses will be taught by a group of Organiclea teachers, and will include plenty of space for practical, participatory and thought provoking contribution from all!
Bring a packed lunch or food to share. Tea and coffee facilities available at the site.
Cost £120 (£80/£40 concessions) Book at www.organiclea.org.uk
Forest Gardening Day at Kingston Permaculture Reserve
Sunday July 6th, Sunday July 27th, Tolworth, Surrey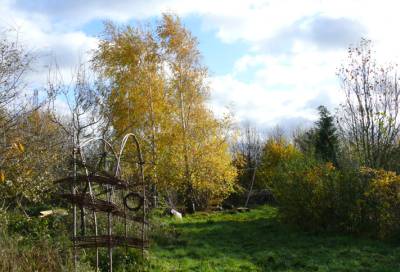 Informal day for lazing or joining in. Bring a picnic, gardening gloves, stout footwear, safety specs.
See website for more info and directions.
Build Your Own Solar Panel Workshop
Saturday 12th July or Saturday 26th July, London
Learn how to make your own solar panels from recycled materials with Demand Energy Equality – and take home a completed solar panel at the end of the day! Learn the fundamentals of making a solar panel to produce electricity for your shed, home, community project, or anywhere! From where to source the materials to how to connect multiple panels together, you will learn all you need to know to build a small or large solar panel for a fraction of the cost of buying one. This is a one-day course, with 2 dates in July to choose from.
Fees : £100 whole course, including taking home the solar panel you build on the day.
Booking and more details: http://www.demandenergyequality.org/shop.html
Permaculture in Pots
Saturday 12th July, Glengall Wharf Garden
Find out how to grow food in containers, sustainably, using permaculture principles. Whether you have a single windowbox, a balcony, or a patio, you too can grow some of your own food. By the end of the workshop you'll know where to start and what to do next to get going.
More details: http://burgessparkfoodproject.org.uk/
Pruning and Training Fruit Trees and Bushes
Sunday 13th July, 9.30am-5.00pm, Organic Lea, Hawkwood Plant Nursery, 115 Hawkwood Crescent, Chingford, E4 7UH
This one day course for beginners and more experienced gardeners covers the essentials of pruning fruit trees and bushes and how to establish trained forms. It includes plenty of practical experience in summer pruning with techniques that can be applied in winter too.
Course fee: £60 (£40 / £20 concessions)
see website for more details and booking
Grow your own Pamper Party
Sunday 13th July, 10am to 1pm, Carshalton Community Allotment
Make your garden work for you! Many herbs and garden plants have been used to make beneficial skincare products for centuries. In this workshop we will explore how to grow, propagate and care for herbs and other beneficial plants in your garden, and make some delicious pamper goodies to take home.
Fee: £25
See website for more details and booking
Introduction to Permaculture
Tuesday 22nd July – Wednesday 23rd July, Edible Landscapes, Finsbury Park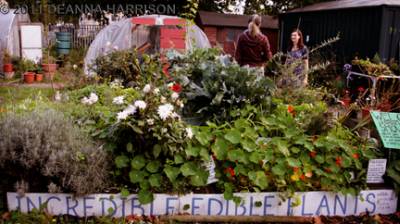 Whether designing a community garden, your window ledge or even how you make a cup of tea(!) the principles of permaculture can guide you towards a much more sustainable and enjoyable life. Inspiring, informative and interactive, this two-day course will equip you with an understanding of the fundamentals of permaculture
Cost: £50 (concessions available) See website for more details and booking
Introduction to Permaculture
Saturday 26th July – Sunday 27th July, Stepney City Farm
A chance to learn the basics of permaculture at a thriving city farm. We will cover the ethics and principles of permaculture, practise observation skills and have a go at a practical design. The course will be interactive, lively and thought-provoking and should give you plenty of ideas for your garden, your balcony or even your lifestyle. The course will be led by Claire White and Ros Bedlow.
Course fee: £120 or £60 concession. For information or bookings contact Ros Bedlow: ros.bedlow@yahoo.co.uk
UK Permaculture Convergence and AGM 2014
Put this one in your diary!
Friday 12th September 2pm – Sunday 14th September 3pm
Gilwell Park Scout Activity Centre, London E4 7QW.
At the same venue as the International Permaculture Convergence next year.
A diverse range of workshops, practical sessions, a visit to a very well established local permaculture LAND centre, project case studies, Diploma presentations, networking, exhibitions, woodland walks, games, adventure activities and lots, lots more! Ticket prices include fantastic local food grown just 1.5 miles away by OrganicLea, and cooked by the wonderful 'Norman Loves Soup' caterers.
One of the strengths of the convergence is the diversity of the programme offered by you, the national permaculture network. Of course, we'll also have one or two "big names" in Permaculture up our sleeve. More details to follow…and in the meantime checkout the website.
Organic Lea Fruit and Veg Stalls
Every Saturday
Organiclea fruit and veg stalls in Walthamstow and Leytonstone will be selling plants on top of our usual range of organic, seasonal, ultra local veg (including surplus produce grown by local allotment holders). Come and buy seedlings to start the growing season, including heritage tomatoes, companion flowers and fruit bushes. Our stalls are
Outside the Hornbeam Cafe, Hoe Street, Walthamstow, E17, 10am-3pm
High Road Leytonstone nestled between Matalan & St.Johns, in partnership with Transition Leytonstone, 10.30am-3pm
'21st Century Permaculture' Radio Show
Sunday 8pm – 6 July & 20 July
Interviewing different guests each time from a pantheon of Permaculturists – talking about what they're up to and how this feeds into the global movement that is Permaculture today.
Sunday 6 July 8pm – interviewing Leander Bindewald on Community Currencies
They seem to be popping up all over the place, but are Community Currency any good, and why are they seen as integral to the renaissance in local economies? Interviewing Complementary Currency expert Leander Bindewald from the New Economics Foundation about the past, present & future of money.
Sunday 20 July at 8pm – see website for more details!
Mixing in some classic funk along the way: Give you more of what you're funkin' for
Listen live on www.ShoreditchRadio.co.uk
Listen to past shows at your leisure: www.MixCloud.com/21stCenturyPermaculture
---
Formidable Vegetable Sound System
The world's most successful experiment in ecological electroswing ukulele with the sole aim of pounding simple solutions for sustainability deep into your consciousness without requiring you to start being a complete mung bean.
London & Brighton Dates of 2014 world tour:
Tuesday 1 July -  Passing Clouds, London
Wednesday 9 July -  City of London Festival
Friday 11 July -  Brighthelm Centre, Brighton
Thursday 17 July -  Zu Studios, Lewes
Saturday 19 July -  Lovebox Festival, London*
Saturday 19 July -  London Electroswing Club*
Saturday 2 August – Sunday 3 August -  Bimble Bandada Festival, Brighton
*(No Mal)
More details and further dates all over the UK at:
formidablevegetable.com.au
facebook.com/formidablevegetable
---
Brighton Events
Get out the suncream, forget your brolly, and head down to the Brighton Permaculture Trust – just a train ride away.
Self Building an Earthship
Friday July 11th to Sunday July 13th : 9am-5:30pm both days, Stanmer Park, Brighton

This 3 day course is for anyone interested in learning about the construction of an Earthship. It includes practical workshops and aims to give a thorough understanding of the process.
Full details and bookings: http://www.brightonpermaculture.org.uk/courses-conferences-and-events/courses/self-building-an-earthship.html
Building with Straw Bales
Friday July 18th – Sunday July 20th : 9am-5:30pm both days
Friday July 25th – Sunday July 27th : 9am-5:30pm both days
Stanmer Park, Brighton
Two dates for this popular course! Aimed at anyone interested in building with straw bales – a cheap, natural, healthy and low impact way of making your own house. This is a practical building course and involves lots of hands-on workshops.
More details and bookings
Details of all courses on Brighton Permaculture Trust website
---
Open days & volunteering opportunities below
London Orchard Project – Londonwide
There are loads of events happening each month that you can help out with, check out their website for up-to-date info: http://thelondonorchardproject.org
Edible Landscapes Finsbury Park N4
Volunteers can turn up on any of our regular days – Mondays and Fridays, 10-3 – and receive informal training – no experience necessary – just turn up – all welcome – shared lunch at 1pm.
www.ediblelandscapeslondon.org.uk
The Meadow Orchard
Every Saturday 11-4pm
Crouch End, N8, workday to care for the site, garden, orchard and wildlife meadow.
Eco-building every Friday 10.30am-5pm
Variable depending on leaders availability so check website www.meadoworchard.org
Weekly open sessions :
Tuesdays 2 -4 drop in gardening
Thursday 11 -1 & 2 -4 Grown in Peckham -Growing to sell to local cafes and restaurants. Shared lunch if staying all day.
Sundays 1 -4 drop in gardening
If your project would like to advertise it's Open Days or Volunteer Days – just email us.