Permaculture Association Annual General Tree Planting Meeting
Saturday 17th November, 11am – 5pm

Stepney City Farm, Stepney Way, London E1 3DG
Join us for our first ever AGTPM – An Annual General Tree Planting Meeting!
This year we will be meeting at Stepney City Farm to present the annual review and accounts, elect new trustees, look at our strategy, run some fantastic practical workshops and plant some trees. Whether you can join us in Stepney or not, now is a great time to start thinking about where you could plant a tree (or more) this winter. Treeplanting is a brilliant and inclusive activity for young and old and every one planted helps our world. We want to make tree planting a regular part of what the Association does, and celebrate the practical work we do in permaculture. For more information and booking go to
https://www.permaculture.org.uk/noticeboard/event/general-event/permaculture-association-annual-general-tree-planting-meeting
Permablitz at Weedington Road Community Garden
Saturday 3rd November, 10am-5pm

Kentish Town, London
Come along for the first permablitz in a series to create a community garden at this unused space in Weedington Road in Kentish Town. This permablitz will focus on preparing the soil and feeding the soil-food-web. We will be clearing some of the existing plants, loosening the soil, laying down a lasagne mulch and planting a green manure. We will also be planting some salad plants that will be ready to harvest in the spring. Mini-workshops will explain the benefits of preparing the soil with lasagne mulches and green manures. They will particularly highlight the key role of the soil-food-web ecosystem in establishing good soil structure and developing natural fertility.
RSVP Essential: if you want to come along you need to let us know so we know numbers and we can give you all the specific details. Contact us here letting us know which permablitz you want to join.
Apply for a smallholding at Arlington
Deadline is Wednesday 7th November,midnight
The Ecological Land Cooperative(ELC) has been granted temporary planning permission by Wealdon District Council to create three affordable smallholdings for new entrant farmers in Arlington, East Sussex. The mission of the ELC is to provide affordable opportunities for ecological land-based businesses in England and Wales. The ELC supports rural regeneration by developing affordable residential sites for farming, forestry and other land-based enterprises which are ecologically beneficial and financially viable.
We're delighted to announce that the process to apply for a smallholding at our Arlington site is now open. The deadline for applications is midnight on Wednesday 7th November.We welcome your application and look forward to reading about your business ideas and your vision for your ecological farm business. For more information, and the application form go to https://ecologicalland.coop/application
Introduction to Permaculture
Saturday 10th November – Sunday 11th November
Arc Hall, Hoathly Hill Community, West Hoathly RH194SJ
The Introduction to Permaculture is a weekend course giving you an overview of permaculture, its key design tools, case studies of permaculture people and places and some practical activities. You have the opportunity to try out permaculture design tools on a project of your choice: here you will have design support and go away with your first permaculture design. After this course, you are ready to get started in permaculture!
More information and booking : http://www.sunrisepermaculture.org.uk/portfolio/introduction-to-permaculture/
Home composting & healthy soils workshop
Saturday 10th November, 10am–1pm
Sutton Community Farm, 40a Telegraph Track, Wallington, London SM6 0SH
Composting expert Paul Richens will lead the workshop, which has been designed to encourage and inspire those wishing to improve their home composting know-how. Come along to discover why composting is absolutely key to creating healthy soil to produce food and flowers through building soil fertility, reducing waste and saving you money! More information at http://suttoncommunityfarm.org.uk/events/home-composting-healthy-soils-workshop-saturday-10th-november-2018/
Plant Flowers in South London Orchard
Sunday 11th November, 12 noon-3pm
Agnes Riley Gardens, Clapham, SW12 0AH
Help The Orchard Project to plant bee-friendly flowers and shrubs in the Orchard Wildife Area next to the Community Garden in Agnes Riley Park. These plants will provide nectar all year round for bees and other insects that pollinate the orchard. Tools and hot soup provided. All welcome. Wear appropriate clothing.
Please sign up for free here: https://www.eventbrite.co.uk/e/flower-and-shrub-planting-workshop-south-london-tickets-51809799505
Northwick Park Community Garden
Tuesday 13th November, 7pm-9pm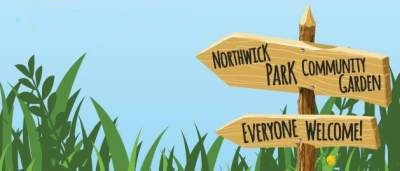 The Windermere Pub, South Kenton, HA9 8QT
In a special area of Northwick Park we are planning on planting a communal green space where the community can unwind, learn and harvest seasonal produce. We need your help to co-create and shape our wonderful Community Garden together. Come along to our launch event and have your say by sharing ideas and being part of something special in our local area.
Understanding all about fruit trees
Thursday 15th November • 6.30pm-8.30pm
Battersea Arts Centre, Lavender Hill, London SW11 5TN
This workshop will explain how fruit trees grow and what to consider when planting them. As well as explaining rootstocks, pollination partners and spacing, the workshop will also look at how to create an ecological design to support your fruit trees. Organised by Permablitz London, free to attend. Please RSVP to benc@bac.org.uk
Rosehip Syrup Making Workshop
Friday 16th November, 11am-12 noon
Forest Farm Peace Garden, end of Hazelbrouck Gardens, Hainault, Essex IG6 2XL
Find out how to make delicious and healthy syrup using the abundant rosehips gathered from our garden. This is a free workshop. Please register if you'd like to attend at: info@forestfarmpeacegarden.org
Go Sustain – Inspiring the world into sustainability
Saturday 17th November 9:30am–6pm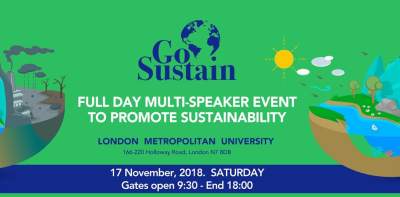 London Metropolitan University, 166-220 Holloway Rd, London N7 8DB
Project "GoSustain" is a one-day event to inspire you into a sustainable lifestyle. Topics such as sustainable living space, energy conservation, food sustainability, sustainable economy and many more. Its a community project purely to inspire people and give back to the world. Book your early bird spot here:
https://www.eventbrite.com/e/go-sustain-inspiring-the-world-into-sustainability-tickets-49249845614
Permablitz at Cecil Sharp House
Saturday 24th November, 10am-4pm
Cecil Sharp House, Camden, NW1 7AY
This permablitz at Cecil Sharp House will be to prepare the garden for winter, cutting down perennials, adding leaf mould and bark chip mulch onto the soil. We will also be collecting leaves to make leaf mould (Cecil Sharp House has a 2-year leaf-mould cycle to compost down the Plane tree leaves, that will be explained in a mini-workshop) and we'll be planting some bulbs for spring. There will also be a chance to take some cuttings. There will be mini-workshops on 'what are bulbs?', how to create leaf-mould and taking hard-wood cuttings.
RSVP Essential: if you want to come along you need to let us know so we know numbers and we can give you all the specific details. Contact us here letting us know which permablitz you want to join.
Unusual edible perennials workshop
Tuesday 27th November, 6.30pm-9pm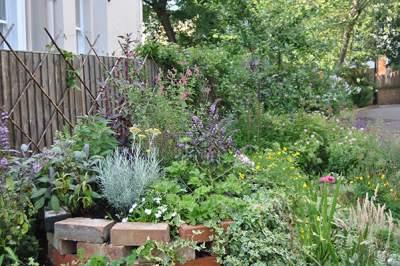 Cecil Sharp House, Camden, NW1 7AY
This workshop will take a look at a broad selection of unusual edible perennials: trees, shrubs, herbaceous perennials, groundcover and roots that you can include in your garden and in forest garden designs. The workshop will outline the different yields you can expect from the plants. You'll be able to see some of the plants in the Cecil Sharp House Garden and receive a handout with details of the plants.
You'll have a chance to try a salad with unusual edible leaves gathered from the Cecil Sharp House garden. To book tickets go to https://billetto.co.uk/en/e/unusual-edible-perennials-workshop-tickets-316560/
News
£25,000 Permaculture Magazine Prize Announces Winners
Established in 2018, the Permaculture Magazine Prize aims to showcase the very best examples of ecological, social and economical regenerative permaculture projects in the world. We want to shine a light on good people and good works in a world on the edge of collapse and climate crisis. We are therefore delighted to announce the winner and runners up of its main category plus the Youth prize supported by the Abundant Earth Foundation.
The Ghana Permaculture Institute (GPI) takes the main £10,000 award for its extraordinary work with its farming community and beyond. The four runners up are equally impressive and each will receive £2,500. They are Albaydha Project, Saudi Arabia; Guba, Swaziland; Bentley Urban Farm, UK; Permaculture Provision Project, USA. More details about the winning projects on the Permaculture Magazine website at https://www.permaculture.co.uk/news/25000-permaculture-magazine-prize-announces-winners
Cecil Sharp House Permaculture LAND garden wins Camden in Bloom Best Business Garden 2018
Cecil Sharp House Permaculture LAND project has won Camden in Bloom Best Business Garden 2018 for the third year running. The Cecil Sharp House garden is a low maintenance permaculture design inspired by the folk adage: one for the birds, one for the bugs and one for me which chimes very well with the permaculture ethos of earth care, people care, fair shares. It is based on working with the soil-food-web, wildlife and plants as co-gardeners to maintain health and fertility. The garden is always open for visitors. https://www.cecilsharphouse.org/csh-visit-us/csh-garden
Forthcoming Events
Natural Dye Workshop
Sunday 2nd December, 12pm-4.30pm
Cecil Sharp House, Camden, NW1 7AY
Come along to this workshop to learn about dyeing fabric with natural plant dyes. You will learn about mordants, recipes to produce different colours and see fabric swatches being dyed with natural plant dyes. To book tickets see https://billetto.co.uk/en/e/natural-dye-workshop-tickets-316558/
---
London Permaculture Network – Interactive Project Map
The London Permaculture network has launched a map of permaculture, and permaculture-friendly projects in London. Go to http://www.londonpermaculture.com/map/ to see it. Use the map to guide yourself around the projects in your local area, and the whole of London.
This map is still being developed, and we would love your project to be included! If you would like your project added to the map please contact us at info@londonpermaculture.com