London Permaculture Network AGM
Sunday 1st February 2pm – 4pm
Cecil Sharp House, 2 Regent's Park Road, Camden, London NW1 7AY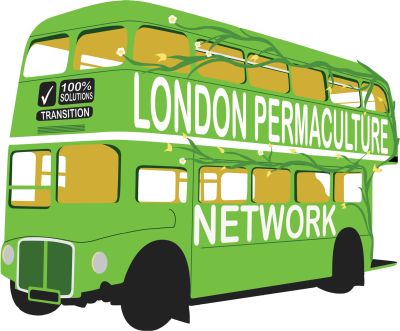 Join the LPN as it looks forward to 2015. The main business will be:
Reports on our work in 2014:

Overview; Finance; Festival; Publicity;

Elections for chair, secretary and treasurer
Then a short break and re-convene to discuss:
 How we support the national association in organising IPC 2015: subgroups; scholarships; London edge events
AOB; Reflection on meeting
Meeting for London-based Diploma Holders (and apprentices)
One hour before the London Permaculture Network's AGM 
Sunday 1st February
Cecil Sharp House, 2 Regent's Park Road, Camden, London NW1 7AY
1pm sharp in Storrow room
Can Diploma holders initiate and a develop a coherent permaculture design strategy for the London bio-region? What could be the role for apprentices? Could a strategy be developed and presented to the International Permaculture Convergence and the Paris UN Climate Change Conference?
Come and help frame a design strategy that meets London's (permaculture) design needs. Led by Les Moore with the support of diploma holders and apprentices. All welcome.
For more details about this exciting initiative, please email les.moore@commonresource.net
Permaculture Picture House presents: The Spirit of 1945 film showing
Tuesday 3rd February from 6:45pm to 11pm
Passing Clouds, Hackney
1945 was a pivotal year in British history. The unity that carried Britain through the war allied to the bitter memories of the inter-war years led to a vision of a better society. Director Ken Loach has used film from Britain's regional and national archives, alongside sound recordings and contemporary interviews to create a rich political and social narrative. THE SPIRIT OF '45 hopes to illuminate and celebrate a period of unprecedented community spirit in the UK, the impact of which endured for many years and which may yet be rediscovered today.
Ken Loach will be coming along to introduce the film from 7:15 and the film will show from 8. We will have a discussion after about how to get the spirit of 2015 happening!
Doors open at 6:45, donations are asked for at the door and delicious and healthy food is available at the bar.
For more info www.permaculturepicturehouse.co.uk
Growing unusual vegetables in your school
Wednesday 11th February 10:30am to 3:30pm
The Regent's Park Allotment Garden, London, NW1 4NR
This workshop is being run by Capital Growth partner Food Growing Schools London to support schools taking part in their 'Grow Around The World' project. The session will cover a variety of more unusual food plants; their origins, cultural and curriculum links and ways of successfully growing them in a school environment. It will also be a chance to learn more about our 'Grow Around The World' project and how this can support a food growing project in your school. We will also give you tips on how to start growing unusual food using inexpensive food and household items. Trainer: Paul Sadler. Ticket price: £25 (12.50 for Capital Growth members). Sign up to this event on Eventbrite here: https://www.eventbrite.co.uk/e/growing-unusual-vegetable-in-your-school-tickets-14944986858
Build your own Solar Charger
Saturday 14th February and Saturday 28th February 9:30 – 5pm (separate courses)
Lewisham, South London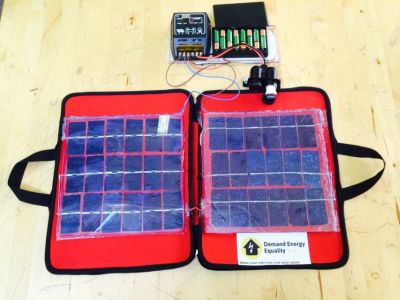 On these two courses learn how to make your own solar panels from recycled materials with Demand Energy Equality – and take home a completed solar panel at the end of the day! Learn the fundamentals of making a solar panel to produce electricity for your shed, home, community project, or anywhere! From where to source the materials to how to connect multiple panels together, you will learn all you need to know to build a small or large solar panel for a fraction of the cost of buying one. For more info and bookings see website
Pruning Fruit Trees and Bushes
Saturday 14th February, 9.30am-5pm
Hawkwood Nursery, 15 Hawkwood Crescent, Chingford, E4 7UH
Love your fruit! This one day course for beginners and more experienced gardeners covers the essentials of pruning fruit trees and bushes. It includes plenty of practical experience in winter pruning with techniques that can be applied in summer too. Course fee: £60/ £40 / £20 – see our course fee guide for details of how concessions apply. More details and booking on the website
Introduction to Permaculture course
Saturday 14th – Sunday 15th February, 10am – 5pm
Stepney City Farm, London E1 3DG
Kevin Mascarenhas has a teaching style that is lively, participatory and thought provoking. Come away empowered and inspired to create your own meaningful solutions. You will learn about:
• the ethics and principles of permaculture
• useful design methods
• observation skills
• tackling a real design problem
• how to apply these techniques to design your own urban systems
Cost: £120 with concession places available at £80 by arrangement
More details, and bookings from the website: http://naturalflow.biz/introduction-permaculture-stepney-city-farm-feb-2015/
Open Orchard Tree Planting in Hillside Gardens and on Palace Road Estate
Sunday 15th February, 12am to 3pm
Hillside Gardens, London SW2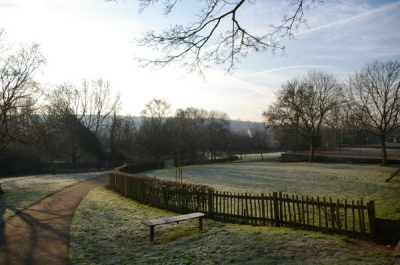 On February 15th we'll be out planting trees in Hillside Gardens Park and on Palace Road Estate. This project happens in collaboration with The Open Works, a Lambeth council civic initiative to encourage the community to participate in the local economy and development. We are very excited to add 7 more trees to the already existing orchard in Hillside Gardens (currently holding 10 fruit trees). We will have teas and snacks and everything ready for you to learn how to plant and look after fruit trees. Contact Mich Thill : mich_thill1[at]hotmail.com for questions or to let him know that you are joining.
Permablitz for Joe's garden, Peckham
Saturday 21st February, 10am – 5pm
Peckham, South London SE15
Come and help us install an edible, wildlife friendly garden in Joe's back garden. The emphasis will be unusual edible perennials and making a variety of pollinator and other insect habitats. We will be creating hugel raised beds and planting fruit trees, fruiting shrubs, scented flowers, salads, vegetables, herbs, ground cover and mushroom-inoculated logs as well as laying down drip feed irrigation and establishing a compost system. RSVP essential: if you want to come along you need to let us know so we know numbers and we can give you all the specific details.  Contact us here
Permaculture & Diverse Communities Taster Day
Saturday 21st February, 10am – 5pm
Coopermil Lane, Waltham Forest, London E17
Tools & Principles to Enrich Our Communities! This 1-day workshop is about ecological and social healing. It will give a taste of both permaculture and working with social diversity. Together we will explore and open up ways to work together effectively, to recognise our differences and our common ground, and to discover how permaculture and contemporary group approaches can support our vision to co-create more conscious, real and productive relationships within our groups and communities.
Fee: £35 (Reduced rate of £25 for Waltham Forest Residents)
More details on the website. Advance Booking ONLY. Book on the website here
Capital Growth food growing training – Build your space, The Essentials
Saturday 21st February, 10:30am to 1pm
The Regent's Park Allotment Garden, London, NW1 4NR
This session is back by popular demand! During this half-day workshop we will focus on the basic hand tools skills you'll need to build simple structures for your garden safely, using reclaimed material where possible. We will be using power drills, saws, hammers etc… Our trainer Paul Richens will go through tool use, health and safety, design and creation of simple structures. You will come out with all the knowledge you need to start building your own! Trainer: Paul Richens. Ticket price: £60 (£30 for Capital Growth members). Sign up to this event on Eventbrite here: http://www.eventbrite.co.uk/e/capital-growth-food-growing-training-build-your-space-the-essentials-tickets-12564064455
Cafe Cairo
Thursday 26th February
88 Landor Road,  Stockwell, London SW9
Every last Thursday of the month is South London Permaculture Cinema at Cafe Cairo. Doors open at 7pm, the evenings flow can be viewed on www.facebook.com/BrixtonEdge. Showing Eco films for change, promoting permaculture action in London, facilitated by Lola an evolving permaculture artist, entry is free so what are you waiting for?
Capital Growth Networking event – Spring into Action
Thursday 26th February, 6pm to 8:30pm
Roots & Shoots, Walnut Tree Walk, Lambeth, London, SE11 6DN
Spring into Action and prepare your growing space for the season ahead.
This Capital Growth networking event is open to anyone interested in urban food growing and will be particularly useful for those looking for ideas and advice on how to get more volunteers to their site as well as some practical advice on the early spring garden to do list! Ticket price: £10 (£5 fo Capital Growth members) Sign up to this event on Eventbrite here:
http://www.eventbrite.co.uk/e/capital-growth-networking-event-spring-into-action-tickets-15134829683
Grow Heathrow's 5th Birthday!
Friday 27th February – Sunday 1st March
Sipson, West Drayton, very West London
Who would have thought it? It's been 5 years of growing tomatoes, learning how to use renewable energy, protecting from planes, pollution and capitalism and finding out about what community really means.. so it's time to party…
Saturday 28th February 11am till late: 5th BIRTHDAY CELEBRATION! Expect workshops, guest speakers, fun and games, pizzas, live music, tours, the cake competition, late night djs, and more.
Friday, 27th February 7pm: Pre-Birthday Performance
Sunday 1st March 3pm: Post-Birthday Artistic Performance
More details on the website
The Life of Soil – Looking after the soil in your school garden
Friday 27th February 10:30am to 1pm
The Regent's Park Allotment Garden, London, NW1 4NR
This workshop is being run by Capital Growth partner Food Growing Schools: London to support schools to get growing better fruits and veg. For good vegetables you need a good soil! This session will cover how the soil works, ways to feed the soil, composting, using green manures and looking after wormeries. We will also look at the soil life cycle and other links to the curriculum. Trainer: Paul Sadler. Ticket price: £25 (£12.50 for Capital Growth members). Sign up to this event on Eventbrite here: https://www.eventbrite.co.uk/e/the-life-of-soil-looking-after-the-soil-in-your-school-garden-tickets-12649626373
21st Century Permaculture Radio
Sunday 1st February and Sunday 15th February at 8pm
Radio show interviewing different guests each time from a pantheon of Permaculturists – talking about what they're up to and how this feeds into the global movement that is Permaculture today. Mixing in some sweet classic retro funk on the way : So wide you can't get around it… To Listen go to http://www.shoreditchradio.co.uk/show/21st-century-permaculture/
1st Feb - interviewing Fran Boait on Positive Money
15th Feb - interviewing Dan Raven-Ellison on the Greater London National Park
If you happen to miss the broadcast, you can listen afterwards at your leisure by going to www.mixcloud.com/21stcenturypermaculture
Organiclea is recruiting – distribution role
Organiclea are looking for someone to join us as we build sustainable and inspiring local food enterprises, distributing large amounts of fresh, organic produce.
The ideal candidate will share a passion for developing and delivering a sustainable community food enterprise and working alongside volunteers, with very strong administrative, logistic, strategic and people skills. We are looking for someone who is committed to the important role that local food distribution plays in building markets and livelihoods for farmers and growers whilst offering local customers the very best of fresh produce; someone who is excited to share skills with others and willing to combine day to day operational delivery with strategic development.
For more information about the role and how to apply, click here . Closing date for applications Tuesday 10 February 2015