Community Seed Swap
Sunday 1st March, 2pm-4pm
New Ground, 5b Union St, High Barnet, EN5 4DF
Come to our fourth seed swapping event if you would like to save money on seeds, try new plants and get to meet some lovely local food growers and gardeners from your community. Bring along spare seeds or small plants – whether veg, herbs, fruit or flowers that you've saved or sown, a packet you no longer want or cuttings from your garden. Swap them with someone else, and take home new seeds and plants for free. Hosted by Incredible Edible Barnet – https://www.facebook.com/IncredibleEdibleBarnet/
Caring for the Soil – A Workshop for Growers in Greater London
Tuesday 3rd March, 10am–1pm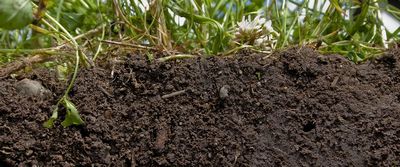 Living Space, 1 Coral Street, London SE1 7BE
Can we learn from each other to help look after our soils? Can we use our networks in Greater London to link up waste and nutrient cycling, and soil care? Can we work together to create a vision of care for the soil, and the people who care for it?
This free event will bring together growers passionate about caring for our soils, providing a space to share their experiences, learn from each other, and consider ways forward to collectively care for urban soils. More info at https://www.eventbrite.co.uk/e/caring-for-the-soil-a-workshop-for-growers-in-greater-london-tickets-92215584295
Bergamotte Pop-Up Jungle
Thursday 5th March – Sunday 8th March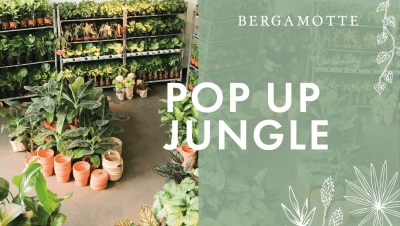 Dray Walk Gallery, Ely's Yard, London, E1 6QL
Our Pop-Up Jungle is back! An urban greenhouse with a selection of more than 4,000 plants: hanging, exotic, graphic or prickly – there's something for everyone and for every budget. We'll also have a huge selection of accessories for you to pair with your new plants! See https://www.facebook.com/events/2783003145097782/ for more information.
Gardening with Nature at Cecil Sharp House
Friday 6th March, 13th March, 20th March, 27th March, 3rd April 1.30pm-4.30pm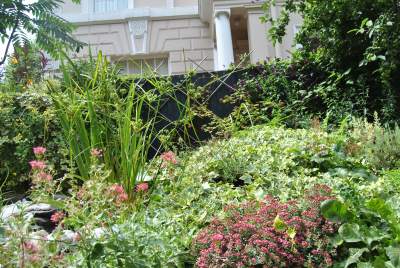 Cecil Sharp House Permaculture Garden, 2 Regent's Park Road, London NW1 7AY
These Gardening with Nature sessions provide an opportunity to learn about maintaining the Cecil Sharp House permaculture garden through the year. In this session we'll be pruning the edible hedge and cleaning the ponds. If you'd like to come along please RSVP to info@permablitzlondon.com
Gardening Club at Josiah Braithwaite Community Garden
Saturday 7th March, Saturday 14th March, Saturday 4th April 10.30am-1.30pm
Nubian Life Resource Centre, 50 Ellerslie Road, White City, London W12 7BW
Come and join us for these sessions in the garden and learn about how to grow and maintain a permaculture, wildlife-friendly, ecological and edible garden. For these sessions we'll be planting vegetable and flower seeds for our summer garden. We grow vegetables, herbs, plants for herbal teas, salads, unusual edible perennials, fruit, berries and edible flowers as well as a profusion of flowers for bees and butterflies. Each week you will learn something different that will be appropriate to the time of year. Further information www.josiahbraithwaitecommunitygarden.org.uk. Please let us know if you are coming by emailing jbcg@nubianlife.org.uk
Diploma Gathering 2020
Saturday 7th March to Sunday 8th March
Roots and Shoots, Walnut Tree Walk, London, SE11 6DN
Join us in the Spring for an inspiring and uplifting weekend of Diploma-related workshops, networking and celebrating as two Apprentices present their final portfolios and receive their Diploma in Applied Permaculture Design. We'll be holding the event in London for the first time. Accommodation is not included, so you'll need to arrange that yourself. For booking and more information see https://www.permaculture.org.uk/
Design 4 Action – Permaculture Design Course
Starts Saturday 7th March for 6 weekends

Furtherfield Commons, Finsbury Gate, Finsbury Park, London N4 2DE
This full Permaculture Design Course offers positive design for your life, your community and your world by empowering the genius inside all of us! Running in Spring 2020 at Furtherfield Commons in Finsbury Park, this course is about regenerative learning, enabling individuals, organisations and communities to come together over six weekends to create empowering solutions to the real world challenges we are all facing in these times of change. Dates: 6 weekends (total 12 days) on Sat 7 – Sun 8 March 2020, Sat 21 – 22 March 2020, Sat 4 – Sun 5 April 2020, Sat 18 – Sun 19 April 2020, Sat 2 – Sun 3 May 2020, Sat 16 – Sun 17 May 2020 Times: 10am – 4.30pm.
For more information and booking see https://spiralseed.co.uk/product/design-4-action-full-permaculture-design-course-finsbury-park/
Three Acres And A Cow
Thursday 12 March, 6.30pm
St. Margaret's House Hall, 21 Old Ford Road, London E29PL
'Three Acres And A Cow' connects the Norman Conquest and Peasants' Revolt with current issues like Brexit, fracking, the housing crisis and food sovereignty movement via the Enclosures, English Civil War, Irish Land League and Industrial Revolution, drawing a compelling narrative through the radical people's history of England in folk song, stories and poems. For more information see https://threeacresandacow.co.uk/
Permablitz at Robyn's garden
Saturday 14th March, 10am-5pm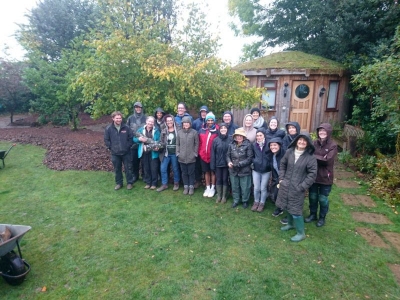 Totteridge and Whetstone
This is the second permablitz at Robyn's garden, to transform the outdoor space into a productive, wildlife friendly, and beautiful forest garden. We will be planting up the beds that were prepared previously with mulch last autumn with a permaculture design based around tree and shrub guilds, building two compost bays, digging and planting up a pond and lots of planting of unusual edible perennials. There will also be mini-workshops on the permaculture design of Robyn's garden, unusual edible perennials and pond construction and planting, as well as creating habitats for solitary bees and hoverflies.
RSVP Essential: if you want to come along you need to let us know so we know numbers for lunch, which is provided, and we can give you all the specific details. Contact us here letting us know which permablitz you want to join.
Grow a veg and flower garden for £20 – Workshop at Northwick Park Community Garden
Thursday 19th March, 7pm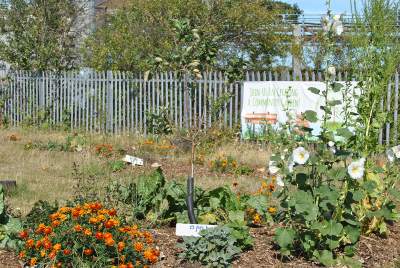 Function Room at The Windermere Pub, Windermere Ave, Wembley HA9 8QT
It is time to start seed planting to prepare a summer garden so come along to find out all about seed planting. We will discuss which seeds you could plant, including unusual varieties of common vegetables and flowers and there will be a practical session where we'll be planting the seeds to take home. These will include seeds we'll be planting for the Northwick Park Community Garden.
For booking see https://www.northwickparkcommunitygarden.com/news-events or email northwickparkcommunitygarden@gmail.com
Capital Growth Training in March
Organic Food Growing For Beginners, Wed 11th March, 6pm. The Regent's Park Allotment Garden, NW1 4NR
Understanding Soil Life, Composting and Wormeries, Wednesday 25th Mrach 6pm. The Regent's Park Allotment Garden, NW1, 4NR
For more information on Capital Growth courses see https://www.capitalgrowth.org/training/
Forthcoming events
London Permaculture Design Course – Creating Resilient Communities
starts Saturday 4th April, 10am
Roupell Park Estate Community Centre, 7 Upper Tulse Hill, Brixton, London SW2 2AL
A course of 6 weekends between April and October 2020 in South London, incl. one 2-night residential in Kent, plus some optional afternoon sessions. The Permaculture Design Course is a 72-hour often life-changing experience, accredited by the UK Permaculture Association. Over the period of 6 weekends we will explore practical and creative solutions for building resilient communities and designing abundant eco-systems.
For more information and booking see http://www.sociallandscapes.co.uk/events/permaculture-design-course-pdc2020-south-london-ys4g8
---
London Permaculture Network – Interactive Project Map
The London Permaculture network has launched a map of permaculture, and permaculture-friendly projects in London. Go to http://www.londonpermaculture.com/map/ to see it. Use the map to guide yourself around the projects in your local area, and the whole of London.
This map is still being developed, and we would love your project to be included! If you would like your project added to the map please contact us at info@londonpermaculture.com
---
Brighton Events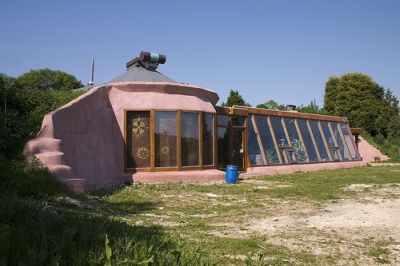 Oh we do like to be beside the seaside – so head down to the Brighton Permaculture Trust – just a train ride away. Check out their website for news of courses, events and Permaculture by the sea.
Green Architecture Day 2020
Saturday 28 March, 10:30am to 5pm
Sallis Benney Theatre, University of Brighton, Grand Parade Building, Brighton BN2 0JY
Hosted by Oliver Heath, Green Architecture is back for 2020. A day packed full of inspiring talks with pioneering action oriented experts who are inspiring us to build, work and live in greener, healthier, buildings and communities. Expect talks on a diverse range of topics from industry experts, such as Green Roof expert, Dusty Gedge; CIBSE Building Performance Engineer of the year 2019, Clara Bagenal George,  founder and Director of Innovation at Biohm, Ehab Sayed; Senior Cohousing Ambassador, Maria Brenton and Senior Lecturer and Co-Founder of BBM Sustainable Design, Duncan Baker-Brown. See https://brightonpermaculture.org.uk/green-architecture-day/ for more information and booking.
21st Century Permaculture Radio
Archive programmes available at https://www.mixcloud.com/21stcenturypermaculture/
Open Days & Volunteering
Please confirm with the project for opening hours and volunteering days.
Cecil Sharp House, Camden NW1
Come and volunteer at the permaculture LAND (Learning and Network Demonstration site) project at Cecil Sharp House. Weekly volunteering sessions
Email info@permablitzlondon.com
Organic Lea – Hawkwood Plant Nursery, 115 Hawkwood Crescent, Chingford, E4 7UH.  Organiclea hold Open Days at Hawkwood Community Plant Nursery on the last Sunday of each month 12pm – 4pm. Just show up and join in. Regular volunteer days at Hawkwood are Wednesdays and Fridays 11am-4pm, and Tuesday afternoons 1.30-4pm. New volunteers are asked to join a volunteer induction, on the 1st Wednesday or 3rd Friday of every month. Check the website for more information including induction dates, www.organiclea.org.uk/get-involved/volunteering/
Orchard Project – London and nationwide. There are loads of events happening each month that you can help out with, check out their website for up-to-date info: http://www.theorchardproject.org.uk/
Edible Landscapes Finsbury Park N4. Our sessions are every Sunday 10-2. No need to book, just come and join in! **Please don't forget to bring suitable all-weather clothes and footwear**  Shared lunch is at 1pm, so bring something to nibble. We usually have a foraged salad as well.
The Meadow Orchard 
Crouch End, N8. Every Saturday 11-4pm  workday to care for the site, garden, orchard and wildlife meadow, plus an Eco-building session. Variable depending on leaders availability so check website for details: 
www.meadoworchard.org
General garden volunteering ~ every Sunday from 1pm-4pm
Grown in Peckham ~ growing to sell ~ every Thursday 1-4pm, shared lunch at 1pm.
---
How do I get my event in the LPN newsletter?
This front page comes from the London Permaculture Network monthly newsletter- sent out at the start of each month to ovr 2000 subscribers. If you want your events to be in the newsletter, please email details to us, at
info@londonpermculture.com
before the 15th of the month, and they will go into the
next
month's newsletter.