Organic food growing for beginners
Saturday 1 April, 10:30am-1pm
St Luke's Growing Connections, EC1V 8AJ
If you want to start growing food but don't know where to start, this course is for you! From understanding your space to what can be grown to basic organic principles, we'll go through all the essential steps to start a successful organic food growing space. See https://www.eventbrite.co.uk/e/organic-food-growing-for-beginners-tickets-32431806406 for details.
Gardening with Nature training sessions in the Cecil Sharp House garden
Sunday 2nd April, 1pm-5pm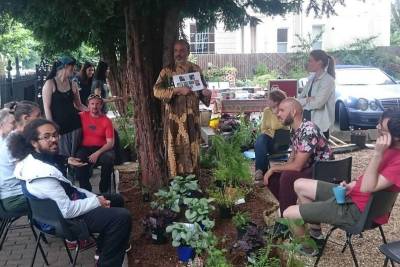 Cecil Sharp House Permaculture Garden, Camden Town, London NW1 7AY
Starting in April there are a series of trainings taking place through the year for people who want to learn more about plants and the practicalities of taking care of them in a permaculture garden. Each session is  £6, or free for regular volunteers. For more details and bookings see http://www.permablitzlondon.com/educationals
Tadpole Tales

Tuesday 4th April, 10.30am-12 noon

The Old Rectory, Festival Walk, Carshalton SM5 3NY
Tadpole stories and songs followed by pond dipping. It is suitable for children aged 3 upwards and the cost will be £5 per child. More information and how to get there ; https://www.sutton.gov.uk/info/200453/parks_trees_and_open_spaces/1145/biodiversity_and_wildlife/3
Permaculture Design Course – Creating Resilient Communities
Starts Saturday 8th April for 7 weekends
Treadwell, Streatham Hill, South London
The Permaculture Design Course is a 72-hour inspiring and often life-changing course, accredited by the UK Permaculture Association. Over the period of 7 weekends we will explore practical and creative solutions for building resilient communities and designing abundant eco-systems. The course has a strong practical emphasis on ecological and social design thinking and how this can be applied in different parts of our life and society. For more details and booking see http://www.sociallandscapes.co.uk/events/permaculture-design-course-pdc2017-south-london
Claudia and Anita's front garden permablitz
Sunday 9th April, 10am-5pm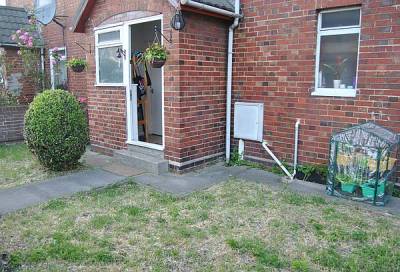 West Ham, East London
Come and help create a beautiful productive and wildlife-friendly front garden for Claudia and Anita. We will be establishing beds and creating planters using recycled pallets to grow fruit trees, unusual edible perennials, flowers and vegetables organised in permaculture guilds. We will also be building a herb spiral. There will be mini-workshops on best techniques for dismantling pallets, unusual edible perennials, choosing the best plants for bees and butterflies and building a herb spiral.  RSVP Essential: if you want to come along you need to let us know so we know numbers and we can give you all the specific details. Contact us here
Capital Growth talk: Permaculture polycultures – Integrating annuals and edible perennials
Tuesday 11 April, 6pm-8:30pm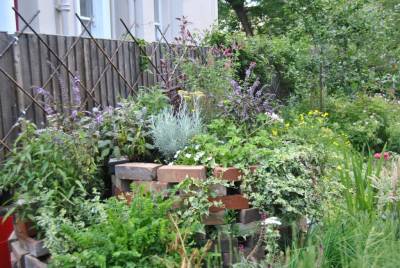 Cecil Sharp House, 2 Regent's Park Road, NW1 7AY
Come and find out how incorporating simple polyculture designs into annual growing plans can increase overall yield and variety, help improve soil structure and moisture retention, build fertile soil, attract pollinators and insect pest predators while increasing wildlife habitats. Going beyond traditional companion planting, this workshop will explain how to use permaculture guilds to create plant alliances among species with different niches above and below ground, in which each plant contributes to the benefit of all. It will include information about how to integrate unusual edible perennials with more common annuals. Suitable for all levels of experience. See https://www.eventbrite.co.uk/e/permaculture-polycultures-integrating-annuals-and-edible-perennials-tickets-32431865583 for details
Love Without Fear
Sunday 16th April, 9:30am-5pm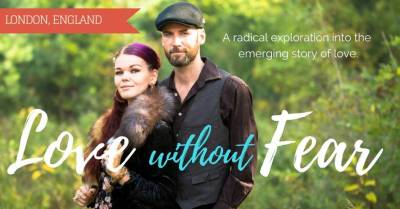 42 Acres Shoreditch, 66 Leonard St, London EC2A4LW
"Love Without Fear" explores the foundations of a new culture of love, and the role of the village in holding resilient partnerships. It builds upon themes from places like Occupy, Burning Man, and the eco-village Tamera in Portugal. Facilitated by Mya Hardman and Ian MacKenzie, a contributor to the permaculture film Inhabit. For more information see https://www.facebook.com/events/409555409412157/ or get tickets at https://lovewithoutfear-uk.eventbrite.ca/
The Big Dig
Saturday 22 April, 2017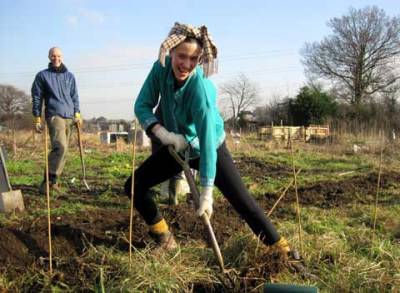 all across London!
Every spring, hundreds of volunteers pull on their wellies and head outside to help community gardens get ready for the new growing season. Use Capital Growth's interactive map to find a garden to volunteer with on 22nd April for the Big Dig. Activities, hours and locations vary so that you can find the right garden. No gardening experience is necessary and all ages are welcome! For details see http://www.bigdig.org.uk/london/
Permablitz for Big Dig Day – Urban Permaculture at Cecil Sharp House
Saturday 22nd April, 10am-5pm
Cecil Sharp House, 2 Regent's Park Road, NW1 7AY
This is the first of a series of permablitz days in 2017 offering workshops and practical activities on various aspects of urban permaculture at the Permaculture Learning and Demonstration Garden at Cecil Sharp House. You are welcome to join us for the whole event or just drop in for a part of the day.
On this occasion we will adding more unusual edible and decorative perennials to our forest garden and planting a series of edible, wild-life friendly permaculture pots. In the process we will apply compost teas and micorrhizal fungi as well as adding wicking reservoirs and hydrogels to irrigate the containers.
Workshops
12pm: Big Dig or No Dig – when to dig and when not to dig! This workshop will focus on why people dig the soil, what the alternatives are and when they are good to use.
3pm: Urban permaculture container gardening Come and see how to plant up your own low-maintenance permaculture container with a mixture of wildlife-friendly, unusual edible perennials.
Cecil Sharp House permaculture project is part of the LAND (Learning And Network Demonstration) network that shows permaculture in practice. It is managed by Permablitz London (www.permablitzlondon.com). The garden is maintained by volunteers through our Gardening with Nature training. We hold regular permaculture design sessions. We also work with the local primary school offering the garden as an outdoor classroom. There is an in-house cafe. We are open to the public throughout the year. To get involved or find out more contact Kayode or Susannah at info@permablitzlondon.com
Six Week Food Growing Course
starts Saturday 22nd April, 10:30am-12:30pm for six weeks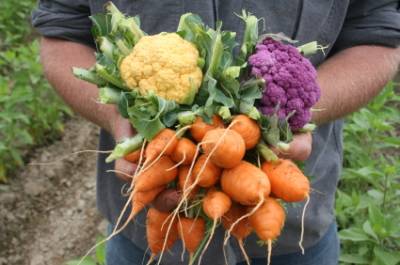 Carshalton Community Allotment (Access between 33-35 Colston Avenue), London SM5 2PW
If you are just starting out, or would like to get some more detailed knowledge of food growing, then this course is for you. Over 6 weeks you will learn everything you need to know to confidently grow your own fruit and veg. including preparing your growing area, planning what to grow, planting techniques, taking care of your plants, feeding your soil, harvesting and storing produce. This course is AQA level 1 certified, and certificates can be provided for an additional fee. for more details and books see http://www.localfoodnetwork.org.uk/index.php/6-week-food-growing-course/
Green woodwork and woodland management
Saturday 29th April, 10:30am-1pm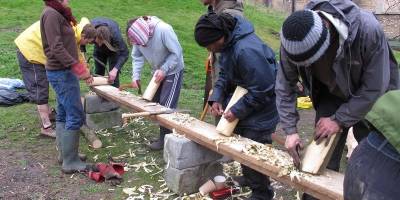 Oasis Nature Garden, Larkhall Lane, London SW4 6RJ
This session is an introduction to managing a small urban sustainable woodland within the beautiful natural play site of Oasis Nature Garden. A great place to start for newbies or for those wanting to add to their existing understanding of wildlife gardening/play etc. The session will include a tour of the garden and woodland and a hands-on workshop on making traditional hurdles for the woodland out of coppiced hazel. Organised by Capital Growth. For tickets and more info about all their training sessions see http://www.capitalgrowth.org/training/
School Pond permablitz – second phase
Saturday 29th April 10am-5pm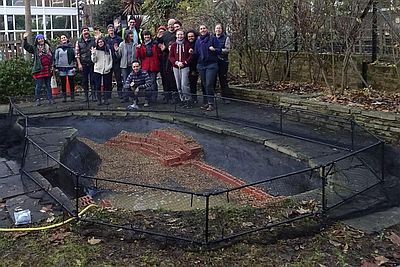 Islington, North London
This is the second permablitz to rejuvenate a pond at a secondary girls school in Islington. We cleared out the pond and added shelving in November so we are ready to place plants at different depths in the pond at this permablitz. We will also be adding 'em balls', which help to encourage beneficial bacteria. The day will include mini-workshops on the benefits of ponds, how to encourage beneficial microbes in your pond and selecting and potting up plants for a pond.
RSVP essential: if you want to come along you need to let us know so we know numbers and we can give you all the specific details. Contact us here
Cafe Cairo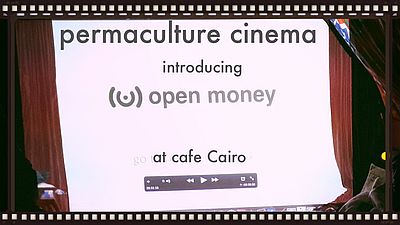 88 Landor Road,  Stockwell, London SW9
Every last Thursday of the month is South London Permaculture Cinema at Cafe Cairo. Doors open at 7pm, the evenings flow can be viewed on www.facebook.com/BrixtonEdge. Showing Eco films for change, promoting permaculture action in London, facilitated by Lola an evolving permaculture artist. We are having a season of Open Money until April. Entry is free so what are you waiting for?
Forthcoming events
Design and plan your garden
Wednesday 3 May, 5.30pm-8pm
Regents Park Allotment Garden, Inner Circle, London NW1 4NP
This session contains all you need to design and plan a succesful growing space throughout the year including planning what crops to grow when, soil management, and how to extend the growing season. Organised by Capital Growth. For tickets and more info about all their training sessions see http://www.capitalgrowth.org/training/
May in a Day!
Saturday 6 May, 12:00pm
Cecil Sharp House, Camden Town, London NW1 7AY
May in a Day! is filled with traditional entertainment for all the family! Join in with an abundance of folk fuelled fun with a lively programme of activities designed to keep you on your feet! Grab your partners and twirl in the ever popular English ceilidh or twist a ribbon on the colourful maypole to live music.
There will be special activities in the Permaculture garden including workshops for children such as 'meet our mini-beasts', 'plant a seed' and tours of the garden. For more details see https://www.cecilsharphouse.org/component/content/article/229-shared/shared-events/csh-featured/4301-may-in-a-day-2017
GrowFest 2017
Saturday 6th May 11am-4pm
Glengall Wharf Grden, 64, Glengall Road, Peckham, SE15 6NF
Find out about growing in southwark. Learn new skills to support existing and new gardening projects. Explore and discover permaculture, wildlife gardening, food growing,composting, beekeeping and more… plus gardeners question time, talks, workshops, seed giveaway, raffle, food, fun and activities for all ages.
More information at https://burgessparkfoodproject.org.uk/
Help design a permablitz and see it put into practice!
Starting Monday 8th May, 7pm-9pm (for 6 Monday evenings)
Cecil Sharp House, 2 Regent's Park Road, London NW1 7AY
We are repeating the Permablitz London Design Guild series to create designs for future permablitzes that will take place at a variety of sites across London. All welcome. Suitable for experienced designers, gardeners & complete beginners. Please note: the previous series was over-subscribed. Priority will be given to people who sign up for the whole series. Dates are Monday 8th May, Monday 15th May, Monday 22nd May, Monday 5th June, Monday 12th June, Monday 19th June. Pre-booking essential:  email Kayode or Susannah at info@permablitzlondon.com
Create an Positive Revolution in Southend!
starts Thursday 11th May, 7pm
Epicquest Learning Centre, Wallis Ave, Southend on Sea SS2 6HA
6 week course (Thursday evenings, 2 hours per week) – The world's full of big problems. You want to do something, but where to begin? Start with something small. Something that makes best use of your unique set of gifts. Something that begins on your doorstep – that tackles the problem in front of you – and grows from there. Co-delivered by Appreciative Inquiry practitioner Sherry Fuller and Permaculture teacher and author Graham Burnett. For more details and booking see http://spiralseed.co.uk/product/creating-positive-revolution/
Permaculture & Islam: Being Contemplative Changemakers
starts Saturday 13th May, 10am
Sufra NW London, 160 Pitfield Way, Stonebridge, London, NW10 0PW
A Course for Muslims, Sufis, and anyone looking for an Applied Spirituality relevant to our times. (PS You don't have to identify as 'Muslim', but it helps to be interested in an 'applied spirituality' or 'spiritual activism').
While the challenges we face may be many, there are holistic, solution-based approaches that offer hope and practical ways forward. On this course you will learn approaches that welcome diversity, connect you with people & the wider natural world, and introduce you to a solution-focused design method for regenerating the earth & communities which can be applied to whatever scale of challenge you face. For more details see http://wisdominnature.org/event/permaculture-islam-2-day/
Soil life, composting and wormeries
Saturday 13 May 2017, 10:30am-1pm
Regents Park Allotment Garden, Inner Circle, London NW1 4NP
One of the best organic growing precepts is "don't feed the plant, feed the soil". During this session we will learn how to care for your soil to get good crops, which natural soil improvers can be used, how to produce your own compost and how to get your wormery going. Organised by Capital Growth. For tickets and more info about all their training sessions see http://www.capitalgrowth.org/training/
Gunther and Lily's permablitz
Saturday 13th May 10am-5pm
West Ham, East London
Come and help create a beautiful, productive and wildlife-friendly back garden for Gunther and Lily. We will be landscaping the garden, adding fruit trees, bushes, climbers – edible and wildlife friendly plants organised in permaculture guilds, as well as a small child-safe pond. There will be mini-workshops on creating a wildlife-friendly garden, inoculating the soil with bacteria and fungi and setting up small ponds. RSVP Essential: if you want to come along you need to let us know so we know numbers and we can give you all the specific details. Contact us here
London Permaculture Network – Interactive Project Map
The London Permaculture network has launched a map of permaculture, and permaculture-friendly projects in London. Go to http://www.londonpermaculture.com/map/ to see it. Use the map to guide yourself around the projects in your local area, and the whole of London.
This map is still being developed, and we would love your project to be included! If you would like your project added to the map please contact us at info@londonpermaculture.com