All about leaf mould and its benefits for a permaculture garden
Sunday 7th January, 1pm-5pm
Cecil Sharp House Permaculture LAND project, 2 Regents Park Road, Camden, NW1 7AY
Gardening with Nature training sessions in the Cecil Sharp House Garden
Leaves from deciduous trees are a significant resource for a permaculture garden. Come and find out about the benefits of leaf mould and how to make it. The session will be a mixture of theory and practical work in the permaculture garden. Tickets cost £6. To book tickets click here: https://billetto.co.uk/e/all-about-leaf-mould-and-its-benefits-for-a-permaculture-garden-tickets-250457
This is part of a series of sessions taking place through the year for people who want to learn more about plants and the practicalities of taking care of them in a permaculture garden. If you would like to become a regular volunteer at the garden email: csh-landproject@permablitzlondon.com
Job opportunity! Work with the Ecological Land Cooperative in Brighton
closing date Monday 15th January
The Ecological Land Cooperative (ELC) is a social enterprise based in Brighton, East Sussex. They exist to create affordable access to land for new entrants to ecological agriculture and mixed farming. They are currently recruiting for two exciting new roles in the cooperative.
Fundraiser – 3 days per week
Membership and Engagement Manager – 2 days per week
Both jobs offer the opportunity to work flexible hours during the week and be a part of our committed team.
Visit http://www.ecologicalland.coop/working-with-us for more information and details of how to make an application. Closing date for applications is midnight on Monday 15th January 2018.
Winter care for edible perennials in a permaculture garden
Sunday 21st January, 1pm-5pm
Cecil Sharp House Permaculture LAND project, 2 Regents Park Road, Camden, NW1 7AY
Gardening with Nature training sessions in the Cecil Sharp House Garden
Come and find out what you need to do in winter to prepare perennials for the best start in spring. Cecil Sharp House permaculture LAND project has a selection of edible perennials and in this training session you can find out what they are and how to take care of them in winter. The session will be a mixture of theory and practical work in the permaculture garden. Tickets cost £6.
To book tickets click here: https://billetto.co.uk/e/winter-care-for-edible-perennials-in-a-permaculture-garden-tickets-250459
This is part of a series of sessions taking place through the year for people who want to learn more about plants and the practicalities of taking care of them in a permaculture garden. If you would like to become a regular volunteer at the garden email: csh-landproject@permablitzlondon.com
2-day Introduction to Permaculture
27th and 28th January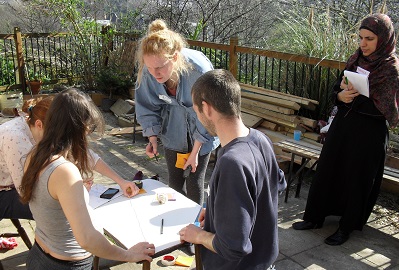 Treadwell, 5 Tredwell Close London, SW2 3TL
Learn the basics of Permaculture Design on this two-day Introduction to Permaculture and be ready to try it out in your garden, your workplace and your life. This course introduces the basics of Permaculture and shows how this fascinating design methodology can profoundly change the way we look at the world and engage in it. The course gives participants an understanding of the diverse uses and applications of Permaculture Design and its immense potential of turning scarcity into abundance. For more info see http://www.sociallandscapes.co.uk/events/2018/1/27-tread-well-on-earth-2-day-introduction-to-permaculture
Deep Ecology Evening at Treadwell
Tuesday 30th January, 6:30pm-9:00pm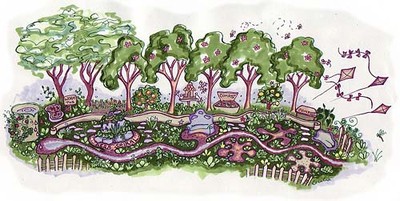 Treadwell, 5 Tredwell Close London, SW2 3TL
On this occasion we will use a variety of interactive and participatory exercises, mainly drawn from Joanna Macy's work, to explore our connection to each other and the world around us – what is it that makes us come alive, what is our common humanity, what is the state of the world and how do we relate to it, what is our response and how can we use challenges as opportunities to come together and celebrate the life we have? See http://www.sociallandscapes.co.uk/events/2018/1/30/deep-ecology-evening-at-treadwell for more info
Winter Pruning Workshops
All over London, throughout January
Help manage community orchards with a team of experienced orchardists. Local pruning workshops throughout January all over London.
Pruning Workshop Waltham Abbey, 10th January 2018, Waltham Abbey Gardens
Veteran Orchard Pruning – Redbridge, Thursday 18th January 10-2.30pm, Hainault Lodge Orchard
Pruning Workshop Highbury, 20th January, Olden Gardens
Winter Tree Pruning Workshop – Se London, Sunday 21st January 11-3pm, Brockwell Park Community Greenhouses – followed by Wassail
Froebels Pruning Workshop – Sw London, Wednesday 24th January 11-3pm, Roehampton University
Pruning Workshop Epsom & Ewell, 25th January, Horton country park, Epsom and Ewell
High Elms Pruning – SE London, Saturday 27th January 10-2pm, Beeche Urchard, High Elms Country Park
Veteran Pruning Workshop- SE London, Sunday 28th January 10-2pm, Dawsons Hill Orchard
Pruning Workshop Harrow, 31st January 2018 10 – 3pm, Old Redding-Harrow & Wealdstone
For more details see: https://www.theorchardproject.org.uk/events/
Tyre Furniture Crowdfunding Page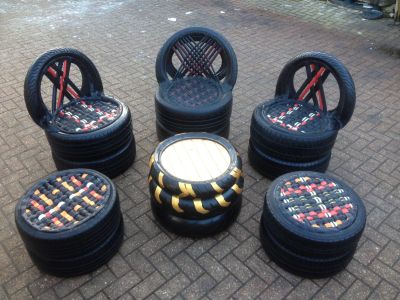 Relaunching our Tyre Furniture crowdfunding page. We are working towards running our next Tyre Furniture training project in Kenya 2018. Please read about the upcoming project and support and share our crowdfunder with friends and people who would be interested to sponsor the tools donations and training or have any tools to donate themselves. For cash donations there are some nice perks such as tyre furniture made by us and gifts from the communities we visit to those who have helped us on our way.
For people able to donate tools: here is a list of what we are looking for:
Stanley knives and blades
Chordless drills with good working batteries and charger
Drill bits 6mm/ 8mm
spanners 8 and 10
Dry wall screws ( black)
Hacksaws and blades
Phillips screwdrivers
If you are able to donate tools, please PM us on Tyre Furniture Skills Facebook page
https://chuffed.org/project/tyre-furniture-africa
https://www.facebook.com/Tyre-Furniture-Skills-1789001201322299/
Forest Farm Peace Garden is looking for new buddy volunteers to join our team!
Becoming a buddy is an opportunity to gain skills and hands-on experience in support work and therapeutic gardening. Our ecotherapy programme is structured for people with low-level mental health difficulties such as depression, anxiety, isolation and low self-esteem. Buddy volunteers provide additional support to people referred to our service, assisting them with gardening tasks, as well as helping with the general running of the ecotherapy sessions. Buddies can make a huge impact to their wellbeing by helping to make their experience in the garden welcoming and purposeful.
We provide two days free training on Friday 9 & 16 February. If you are interested in applying to be a volunteer buddy please read the role description and complete the short application form on our website here. The closing date for applications is Friday 2 February 2018. After completion of the training, successful applicants are required to undertake an enhanced DBS check arranged by FFPG. Please contact Fran Reeves, our Ecotherapy worker, if you would like to find out more about being a buddy on: mobile 07525 125057, email fran@forestfarmpeacegarden.org
London Permaculture Network – Interactive Project Map
The London Permaculture network has launched a map of permaculture, and permaculture-friendly projects in London. Go to http://www.londonpermaculture.com/map/ to see it. Use the map to guide yourself around the projects in your local area, and the whole of London.
This map is still being developed, and we would love your project to be included! If you would like your project added to the map please contact us at info@londonpermaculture.com
Forthcoming Events
Introduction to Permaculture
Saturday 3rd February to Sunday 4th February
Arc Hall, Hoathly Hill Community, West Hoathly, Sussex RH194SJ
The Introduction to Permaculture is a weekend course giving you an overview of permaculture, its key design tools, case studies of permaculture people and places and some practical activities. You have the opportunity to try out permaculture design tools on a project of your choice: here you will have design support and go away with your first permaculture design. After this course, you are ready to get started in permaculture! See http://www.sunrisepermaculture.org.uk/portfolio/introduction-to-permaculture/ for details.
Winter care for fruit trees in a permaculture garden
Sunday 4th February, 1pm-5pm
Cecil Sharp House Permaculture LAND project, 2 Regents Park Road, Camden, NW1 7AY
Gardening with Nature training sessions in the Cecil Sharp House Garden
The fruit trees at Cecil Sharp House Permaculture garden are grown with plants around their base that will support their needs. Come and find out what they are and the maintenance that is required during winter to ensure the best start for the plants in spring. The session will be a mixture of theory and practical work in the permaculture garden. £6.
To book tickets click here: https://billetto.co.uk/e/winter-care-for-fruit-trees-in-a-permaculture-garden-tickets-250460
This is part of a series of sessions taking place through the year for people who want to learn more about plants and the practicalities of taking care of them in a permaculture garden. If you would like to become a regular volunteer at the garden email:  csh-landproject@permablitzlondon.com