Gardening with Nature at Cecil Sharp House
Friday 6th and 13th December, 1.30pm-4.30pm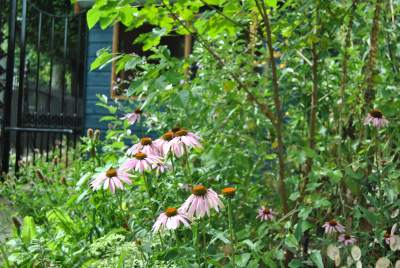 Cecil Sharp House Permaculture Garden, 2 Regent's Park Road, London NW1 7AY
These Gardening with Nature sessions provide an opportunity to learn about maintaining the Cecil Sharp House permaculture garden through the year. In these sessions we'll be preparing the garden for winter and potting on seedlings for autumn salads/greens and spring flowers. If you'd like to come along please RSVP to info@permablitzlondon.com
Winter Pruning Course
Saturday 7th December, 10am-3pm
Alara Wholefoods, 110 Camley Street, Camden N1C 4PW
Join The Orchard Project for an introduction to fruit tree pruning in one of London's most urban of orchards at Alara Wholefoods, Camden. The workshop will cover both formative and remedial pruning on apples, pears, medlars and quince trees ranging from 4-11 years old. Hot drinks and snacks provided, as are tools. More info and booking at https://www.eventbrite.co.uk/e/winter-pruning-course-camden-tickets-67426347019
Carshalton Frost Fair
Saturday 7th December 1pm-6pm
Carshalton Ponds, London SM5 2PZ
The Frost Fair is sited in the beautiful setting of Carshalton Ponds, a traditional winter event with activities for all of the family. It is run by EcoLocal with the Friends of Honeywood Museum. As it gets darker, the area is lit with twinkling fairy lights which all helps create a magical atmosphere. Outside Honeywood Museum and in the nearby Memorial Gardens and Festival Walk, stalls from the Wallington Farmers Market will join us.
See https://www.ecolocal.org.uk/highlight/carshalton-frost-fair/ for more details
Josiah Braithwaite Community Garden Gardening Club
Saturday 7th December, 10.30am-2pm
Nubian Life Resource Centre, 50 Ellerslie Road, White City, London W12 7BW
Come and join us for our weekly sessions in the garden and learn about how to grow and maintain a permaculture, wildlife-friendly, ecological and edible garden. We grow vegetables, herbs, plants for herbal teas, salads, unusual edible perennials, fruit, berries and edible flowers as well as a profusion of flowers for bees and butterflies. Each week you will learn something different that will be appropriate to the time of year. Please let us know if you are coming by emailing jbcg@nubianlife.org.uk
Natural Dye Workshop with Northwick Park Community Garden
Saturday 14th December 2.30pm-5.30pm
Church Of The Annunciation, 194 Windermere Ave, Wembley HA9 8QT
This natural dye workshop will teach you about how to use plants to dye fabric. You will learn about how to prepare the materials, the different mordanting processes and the different colours you can achieve with different plants.  You will be able to dye a silk scarf to take away with you and will also receive a handout with instructions. Light afternoon refreshments – Tea, coffee and cakes, are included in the cost. Tickets cost £20/£10 concessions and are available to book here: https://billetto.co.uk/e/natural-dye-workshop-tickets-392108
Further information contact: northwickparkcommunitygarden@gmail.com
Christmas Events at London's City Farms

Santa's Grotto at Vauxhall City Farm
through December, 10:30am-1pm and 1:30pm-3:45pm
Vauxhall City Farm, 165 Tyers Street, London SE11 5HS
Santa will welcome visitors in his cozy workshop on Sunday 1st December, Saturday 7th December & Sunday 8th December, Saturday 14th December & Sunday 15th December, Saturday 21st December. No matter if you've been naughty or nice this year, you will get a fabulous present at the end! More info at https://www.vauxhallcityfarm.org/Event/santas-grotto
Mudchute Christmas
Saturday 4th December, 11am-4pm
Mudchute Park & Farm, Pier Street, Isle of Dogs, London E14 3HP
Join us for a living crib, festive crafts, free boot fair, and Christmas stalls. Please bring donations of warm blankets, bedding, clothes and socks for homeless projects. More info at https://www.mudchute.org/news/mudchute-christmas-sat-dec-14-2019
Spitalfields City Farm
Saturday, 7 December, 11am-3pm
Buxton Street, London E1 5AR
Come to the Winter Fayre. Stalls, Raffle, Face Painting and Henna, Arts, Crafts and Games, Donkey rides, and Santa's Grotto! Enjoy Festive Tunes from Hackney Empire Community Choir. More info at https://www.spitalfieldscityfarm.org/whats-on/2019/12/7/spitalfields-city-farm-winter-fayre
Kentish Town City Farm
Sunday 8th December
1 Cressfield Close, off Grafton Road, London NW5 4BN
Have yourselves a merry Christmas Fayre at the Farm! Come early to see Santa arrive on horseback with his elf-mates and donkeys. Children will love Santa's Grotto, Goat Grooming, Face Painting and Festive Arts, and everyone will enjoy our Christmas Café with scrumptious bakes & cakes. There'll be live music, lucky dip, raffle, tombola and lots of seasonal fun. Bring the whole family & friends! Santa arrives about 12:15pm. Entry: Adults £1, Children 50p. Santa's Grotto £3.00. More info at http://ktcityfarm.org.uk/whats-on/#christmas
Salvation Army Nativity at Stepney City Farm
Sunday 8th December, 2pm–4pm
Stepney City Farm, Stepney Way, London E1 3DG
Join the Salvation Army for a nativity play at the Farm. Always lots of fun – with hot chocolate and mince pies too. More info at http://stepneycityfarm.org/at-the-farm/whats-on/
OrganicLea Festive Hampers
This December, OrganicLea will be offering seasonal hampers in a variety of sizes as a way of gifting ethically to family and friends. All of our hampers will include products made by us in London, from our Hawkwood Regent wine to jams, chutneys and our dried chillies alongside food system change literature and solidarity products from Zaytoun, Zapatista Coffee, Hodmedod's, Raybel Charters and our union, The Landworkers' Alliance. All hampers will be packaged in upcycled fabrics and materials from Hawkwood Plant Nursery and our friends at Forest Recycling Project. More details at https://www.organiclea.org.uk/2019/11/hampers/
Brighton Events
Oh we do like to be beside the seaside – so head down to the Brighton Permaculture Trust – just a train ride away. Check out their website for news of courses, events and Permaculture by the sea.
Annual £30,000 Permaculture Magazine's Prize Celebrates Significant Climate Change Solutions
Established in 2018, the Permaculture Magazine Prize aims to showcase the very best examples of ecological, social and economical regenerative permaculture projects in the world. We want to shine a light on good people and good work in a world on the edge of collapse and climate crisis. This year's winners are helping to nurture refugees, educate tens of thousands of smallholder farmers, creating safe spaces for young people, greening deserts and more.
Nurturing Refugees
African Women Rising takes the main £10,000 award for its work in Palabek Refugee Camp, North Uganda, creating innovative, long-term solutions to help solve the food security problems. (Read more about them in Permaculture Magazine issue 102, out now.)
Turning the Desert Green Again
Bayoudha Village in Jordan takes the second £5,000 prize. Since 2011, the project has used permaculture methods to engage the local community in regenerating their landscape, focussing on conserving and restoring damaged watersheds.
The four runners up are equally impressive and each will receive £2,500
Instituto Mesoamericano de Permacultura (IMAP), Guatemala
Northern Youth Project, New Mexico.
Permakultur Kalimantan Foundation, Borneo
The School of Earth, Greece
2020 Permaculture Magazine Prize
The 2020 Prize will be launched in January. Applications will be open online at permaculture.co.uk. If you would like to get involved as a media partner and philanthropist please contact maddy@permaculture.co.uk. For more details about the Permaculture Prize and this year's winners, see https://www.permaculture.co.uk/news/%C2%A330000-permaculture-magazine-prize-celebrates-climate-change-solutions
London Permaculture Network – Interactive Project Map
The London Permaculture network has launched a map of permaculture, and permaculture-friendly projects in London. Go to http://www.londonpermaculture.com/map/ to see it. Use the map to guide yourself around the projects in your local area, and the whole of London.
This map is still being developed, and we would love your project to be included! If you would like your project added to the map please contact us at info@londonpermaculture.com
Open Days & Volunteering
Please confirm with the project for opening hours and volunteering days.
Cecil Sharp House, Camden NW1
Come and volunteer at the permaculture LAND (Learning and Network Demonstration site) project at Cecil Sharp House. Weekly volunteering sessions
Email csh-landproject@permablitzlondon.com
Organic Lea – Hawkwood Plant Nursery, 115 Hawkwood Crescent, Chingford, E4 7UH.  Organiclea hold Open Days at Hawkwood Community Plant Nursery on the last Sunday of each month 12pm – 4pm. Just show up and join in. Regular volunteer days at Hawkwood are Wednesdays and Fridays 11am-4pm, and Tuesday afternoons 1.30-4pm. New volunteers are asked to join a volunteer induction, on the 1st Wednesday or 3rd Friday of every month. Check the website for more information including induction dates, www.organiclea.org.uk/get-involved/volunteering/
Orchard Project – London and nationwide. There are loads of events happening each month that you can help out with, check out their website for up-to-date info: http://www.theorchardproject.org.uk/
Edible Landscapes Finsbury Park N4. Our sessions are every Sunday 10-2. No need to book, just come and join in! **Please don't forget to bring suitable all-weather clothes and footwear**  Shared lunch is at 1pm, so bring something to nibble. We usually have a foraged salad as well.
The Meadow Orchard 
Crouch End, N8. Every Saturday 11-4pm  workday to care for the site, garden, orchard and wildlife meadow, plus an Eco-building session. Variable depending on leaders availability so check website for details: 
www.meadoworchard.org
General garden volunteering ~ every Sunday from 1pm-4pm
Grown in Peckham ~ growing to sell ~ every Thursday 1-4pm, shared lunch at 1pm.
---
How do I get my event in the LPN newsletter?
This front page comes from the London Permaculture Network monthly newsletter. If you want your events to be in the newsletter, please email details to us, at
info@londonpermculture.com
before the 15th of the month, and they will go into the
next
month's newsletter.